200 poor Zamboanga residents benefit from medical mission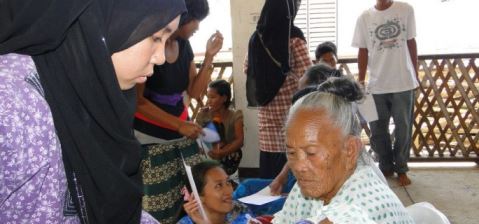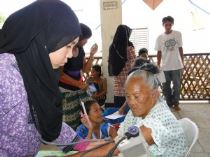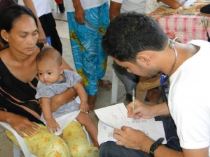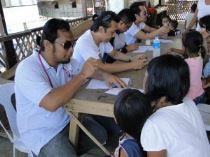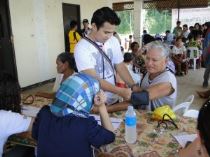 Members of the Young Moro Professionals Network–Western Mindanao during the medical mission in Badjao village in Zamboanga City in the southern Philippines.
ZAMBOANGA CITY (Mindanao Examiner / Oct. 30, 2012) – Over 200 mostly poor people here have benefitted from a recent medical mission conducted by the
Young Moro Professionals Network–Western Mindanao.
The group's acting officer-in-charge, Jehannie Jalani, described the medical mission in the village of Maasin as "meaningful" because it coincided with the Islamic celebration of the Eid'l Adha or the Feast of the Sacrifice, celebrated by Muslims worldwide to commemorate the great sacrifice of Prophet Abraham.
"We chose this village because from our consultations with the community leaders, a healthcare assistance such as this medical outreach is one of their urgent necessities," Jalani said.
She said most of the beneficiaries of the medical outreach mission were Badjaos.
The group's project manager, Dr. Abdul Javar Esturco, said they extended healthcare assistance to patients, including children, with different health concerns such as hypertension, heart problems, cough, fever, and skin diseases.
He said the mission was also supported by various groups and individuals.
"We are especially grateful to Muslim Doctors, Peacetech, Brent Hospitals and Colleges – College of Nursing and Midwifery, Teng's Grill, Markaz Tarbiya, CHARE, and dozens of volunteers whose efforts have been indispensable to the success of this initiative," he said.
Jalani said they also launched "Subastahan Para sa Taytayan," in an effort to raise funds for the reconstruction of the bridge walkway in Badjao village. "This project is our small contribution to help repair the dilapidated walkways that connect stilt houses in the area," she said. "We hope everyone will participate in this initiative. Interested individual or groups may donate any item to the Subastahan Para sa Taytayan or by simply joining the public bidding."
Jalani said those who would like to help or donate or are interested join may simply visit the group's Facebook page "Subastahan para sa Taytayan." (Nuhman Aljani)
1,891 total views, 4 views today