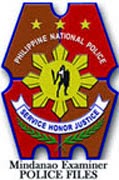 ZAMBOANGA CITY – A seven-year old girl who was abducted by a group of teenagers in Zamboanga City in southern Philippines have escaped from his captors and police launched an investigation into the incident, officials said Sunday.
Inspector Dahlan Samuddin, a regional police spokesman, said the incident occurred in a hamlet called Luyahan in the village of Pasonanca on Saturday morning.
The girl said she was seized by six unidentified teenagers and put her in a sack and brought to a secluded place where she was threatened with death. She said she managed to escape and ran home where she told her ordeal to her parents.
"Personnel of Santa Mara Police Station-7 led by Police Senior Inspector Binefer Torrecampo together with the WCPD (Women and Children Protection Desk) investigator conducted follow-up investigation at the place of incident to ascertain the veracity of the report," he said. (Mindanao Examiner)
Like Us on Facebook: https://www.facebook.com/mindanaoexaminer
Follow Us on Twitter: https://twitter.com/MindanaoExamine
Read Our News on: http://www.mindanaoexaminer.com and http://www.mindanaoexaminer.net
1,441 total views, 0 views today