Aquino to sign draft Bangsamoro Basic Law after SONA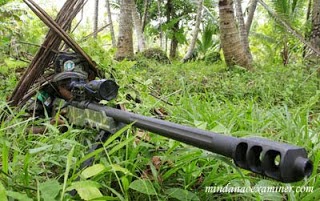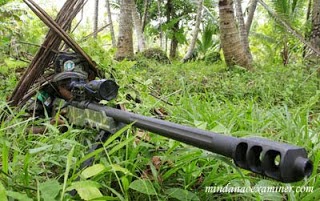 A Moro Islamic Liberation Front soldier takes an aim from a sniper scope during an exercise in southern Philippines. (Mindanao Examiner Photo – Mark Navales)
COTABATO CITY (Mindanao Examiner / June 30, 2014) – President Benigno Aquino is expected to submit the proposed Bangsamoro Basic Law to Congress for ratification after he delivers his State of the Nation Address) on July 28, a government spokesman said.
Edwin Lacierda said Aquino has expressed confidence that Congress will enact the bill into law. "We have always stated that the President will submit the Bangsamoro Basic bill after the SONA. The President will certify it as urgent and we are confident that the Bangsamoro Basic Bill, while it will go through the legislative process, will become a law," he said.
The Bangsamoro Transition Commission which crafted the draft law submitted it to Aquino in April and the President should have signed it last month, but it has been delayed by so much review to ensure that all the provisions in it do not violate the Constitution.
Lacierda insisted the draft of the Bangsamoro Basic Law was made within the framework of the Constitution. "We believe that what will be filed in Congress will be constitutional," he said.
Aquino has said he will personally study the draft of the Bangsamoro Basic Law before it is submitted to Congress.
The rebel group Moro Islamic Liberation Front, which signed a peace agreement with Manila in March, has expressed serious concern over the delay in the signing of the proposed Muslim homeland.
Once Aquino signs the draft law, it can be ratified and implemented in time for the 2016 local and national elections. The law will pave the way for the establishment of the Bangsamoro region in 2016 that would replace the Autonomous Region in Muslim Mindanao or ARMM which is composed of Basilan, Sulu, Tawi-Tawi, Lanao del Sur and Maguindanao, including the cities of Lamitan and Marawi.
The creation of Bangsamoro autonomous region would have to be decided on a referendum in the ARMM and in areas where there are large Muslim communities probably before the year ends.
MILF chief peace negotiator Mohagher Iqbal said they are worried over the delay in the signing of the draft law. "We are seriously worried about the delay in signing of the BBL by President Aquino and this further delay the implementation of the peace agreement – the Comprehensive Agreement on Bangsamoro – and it creates problems not only to the Aquino government, but the MILF as well. It's a political problem and government has to address this quickly because we are running out of time here," he told the regional newspaper Mindanao Examiner. (Mark Navales and J. Magtanggol)
1,385 total views, 5 views today