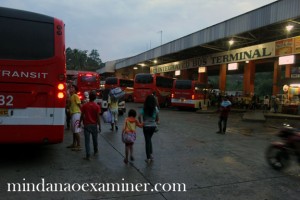 Pagadian bus terminal in Zamboanga del Sur province. (Mindanao Examiner Photo)
PAGADIAN CITY (Mindanao Examiner / Apr. 28, 2013) – Unidentified men tossed a grenade in front of the house of a politician in Zamboanga del Sur, but did not explode, police said Sunday.
It said the men escaped on a motorcycle after tossing the grenade outside the house of Eddie Relacion in Lower Pulacan village in Labangan town near Pagadian City.
Relacion is running as board member in the province.
The grenade was recovered by the police and investigation is going on to determine who were behind the failed attack or whether it was connected to political rivalry or not. (Mindanao Examiner)
1,928 total views, 1 views today