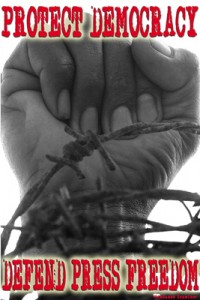 DIPOLOG CITY (Mindanao Examiner / May 31, 2013) – An unidentified gunman strafed early on Friday a radio station in Dipolog City in Zamboanga del Norte province in southern Philippines, police said.

Police said the attack, which occured at around 2.30 a.m. Friday, damaged the announcer's booth of dxFL.

The owner of the radio station, Franklin Lim, told police that he heard a burst of gunfire, but thought they were from firecrackers.
He said the radio technician reported to work at 6 a.m. and discovered the announcer's glass booth shattered and bullet holes peppered the door.
Police said it recovered at least 8 deformed slug and four casings of bullets fired from a .45-caliber pistol.
The motive of the attack is still unknown and police would not say if the shootings had anything to do with the operation of the radio station or its announcers. (Mindanao Examiner)
1,455 total views, 1 views today