Philippines hit by strong quake, tsunami warning up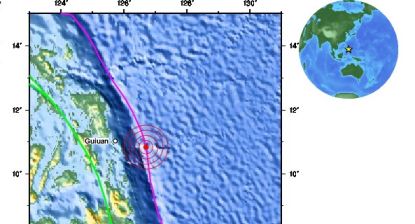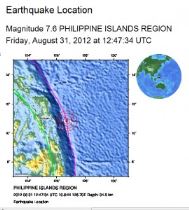 Image from US Geological Survey
DAVAO CITY (Mindanao Examiner / Aug. 31, 2012) – A powerful earthquake struck off the central Philippines and triggered a tsunami warning and mass evacuation as far as the southern Mindanao region late Friday.
There were no immediate reports of civilian casualties, but authorities have alerted citizens for tsunamis.
The US Geological Survey reported the quake, which occurred at around 8.47 p.m., was measured at 7.6 Magnitude near the town of Guian in Samar province.
Undersecretary Benito Ramos, of the National Disaster Risk Reduction and Management Council, said the powerful quake was also felt in Mindanao.
He said one woman, Emelita Ubalde, 50, was killed and a five-year old boy injured following a landslide in Cagayan de Oro City in northern Mindanao.
The Philippine Institute of Volcanology and Seismology released Tsunami Alert Level 3 and advised citizens in coastal areas in Samar and Leyte provinces in central Philippine, and Surigao del Sur and Surigao del Norte in southern Philippines to immediately evacuate. (Mindanao Examiner)
1,313 total views, 2 views today