Police kill 2 armed robbers in Tagum City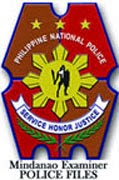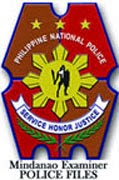 DAVAO CITY (Mindanao Examiner / June 30, 2014) – Police killed two suspected robbers in a shootout in Tagum City in Davao del Norte province, officials said Monday.
Officials said the two men were trying to rob the Dxung Sxun Display Center when they opened fire of policemen deployed in the area.
An informant tipped off police that the two men were planning to stage a robbery and gave authorities enough time to deploy officers in the area.
The armed men – who noticed the presence of policemen- opened fire on authorities and sparking a firefight that killed them.
Officials said one of the slain men was identified as Michael Padernal.
Policemen recovered a .38-caliber revolver and six bullet casings and more than P50,000 in cash and cheques, including an iPhone, from the duo. (J. Magtanggol)
1,242 total views, 4 views today