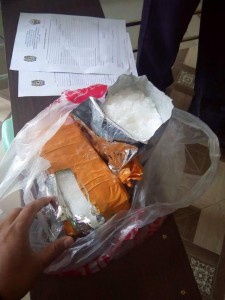 ZAMBOANGA CITY – Police arrested 3 people and seized three kilos of crystal meth worth about P60 million in the southern Philippine port city of Zamboanga, officials said Monday.
Officials said policemen arrested the trio –  Almujir Sabtal, 29, a native of Luuk town in Sulu province; Carmin Maluddiny, 36; and Jimo Alijam, 26, both residents of Zamboanga City – at Vallerosa Subdivision in Sinunuc village.
Superintendent Nonito Asdai, whose unit was behind the weekend drug sting, said the illegal drugs allegedly came from Sulu. He said the suspects were being investigated.
Regional police chief Billy Beltran praised Asdai's group and the arrest of the trio, saying it was a "job well done and for their utmost efforts that resulted to the arrest of drug personalities involved in drug pushing and trafficking in Zamboanga Peninsula." (Mindanao Examiner)
Like Us on Facebook: https://www.facebook.com/mindanaoexaminer
Follow Us on Twitter: https://twitter.com/MindanaoExamine
Read Our News on: http://www.mindanaoexaminer.com /http://mindanaoexaminernewspaper.blogspot.com/
Digital Archives: issuu.com/mindanaoexaminernewspaper
119,732 total views, 0 views today