Sayyaf bomber captured in the Philippines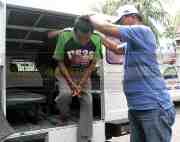 Philippine authorities announce Wednesday, November 30, 2011 the capture of an-Qaeda-linked Abu Sayyaf bomber, Hussin Ahaddin, 38, who is tagged as among those behind the spate of deadly attacks in Zamboanga City and other parts of Mindanao over the past decade, including the October 2002 bombings of three department stores and a roadside restaurant outside an army base that killed more than a dozen people, among them a US Green Beret commando and a Filipino soldier. Ahaddin's sister, Julaida Arasain, 32, denies all accusations against her brother. (Mindanao Examiner)
ZAMBOANGA CITY (Mindanao Examiner / Nov. 30, 2011) – Philippine authorities announced Wednesday the capture of an Abu Sayyaf bomber tagged as behind the spate of deadly attacks in Zamboanga City and other parts of Mindanao, including the October 2002 bombings of three department stores and a roadside cafe outside an army base that killed more than a dozen people, among them a US Green Beret commando and a Filipino soldier.
Washington has provided the Philippine government with military advisors, equipment and financial support to help defeat terrorism in the country, but the attacks still continue unabated despite the presence of some 600 UStroops in Zamboanga and other parts of Mindanao.
Police officials said the 38-year old Hussin Ahaddin was captured on a remote Zamboanga village called Muti after an anti-terror group tracked down the militant and arrested him late Tuesday.
"Ahaddin has admitted during interrogation that he was involved in many bombings in Zamboanga, including an attack that killed a US soldier in 2002. He is an Abu Sayyaf terrorist," Senior Superintendent Edwin de Ocampo, the chief of the local police force, told the Mindanao Examiner, adding the bomber was part of an Abu Sayyaf faction under Puruji Indama who based in nearby Basilan province.
De Ocampo said interrogation is still going to determine if Ahaddin was also involved in the recent bombing of the Atilano Pension House in Zamboanga City that killed 3 people and wounded 27 others.
A handcuffed Ahaddin was briefly shown to reporters, but he said nothing and merely stared at them. Ahaddin's sister Julaida Arasain, 32, said her brother was an innocent driver of a motorcycle-taxi and that he may have been picked up due to mistaken identity.
"We are asking for help. All the accusations against my brother are untrue. He is innocent," the sister told reporters, sobbing.
She said police had also arrested her brother in 2007 on suspicion he was an Abu Sayyaf member due to his Muslim name, but released him later.
But Director General Felicisimo Khu, of the Directorate for Integrated Police Operations in Mindanao, has implicated Ahaddin in almost a dozen other attacks in Zamboanga, including last month's bombings of Red Palm Pension House, the San Roque Cockpit Arena and a roadside restaurant that killed one person and wounded 6 others.
He said security forces have mounted an operation to track down other members of the Abu Sayyaf. "Our security troops are still conducting follow-up operations to arrest other members of the group who remained at-large. An intensive investigation is also underway to find out the extent of the operation of the Abu Sayyaf as well as their plans," Khu said.
He also appealed to citizens to stay vigilant for possible terror attacks. "We appeal to the public to be very vigilant in reporting the presence of suspicious-looking persons and baggage in their areas to the nearest police or military station." (MindanaoExaminer)
1,576 total views, 1 views today