Troops clash with Basilan rebels, capture 3 gunmen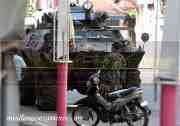 Government troops in Basilan province. (Mindanao Examiner Photo)
ZAMBOANGA CITY (Mindanao Examiner / Nov. 15, 2011) – Government soldiers captured three suspected rebels following a firefight Tuesday in the troubled Muslim province of Basilan in the southern Philippines, officials said.
Officials said the fighting erupted in the village of Tongsengal in Sumisip town where troops mounted fresh operation against Moro rebels.
"There is no report of casualties on both sides, but troops captured three lawless elements. Troops also recovered two M16 rifles, a radio communication set, two bandoleers with seven M14 magazines and five M16 magazines," Army Lieutenant Colonel Randolph Cabangbang, a spokesman for the Western Mindanao Command, told the Mindanao Examiner.
He said the soldiers clashed with the group of Abdulbaki Ismanul.
Just last month, suspected Abu Sayyaf rebels ambushed a truck transporting rubber farm workers and killed five of them in Sumisip's Sapah Bulak village.
Most of the victims were rubber tree tappers of the Tumahubong Agrarian Reform Beneficiaries Incorporated Development Cooperative.
Taha Katu, the cooperative manager, said the Abu Sayyaf was likely behind the ambush after they ignored extortion demands by the militant group. He said the Abu Sayyaf was demanding P50,000 a month from the cooperative.
But the military blamed the attack on the larger Moro Islamic Liberation Front which is currently negotiating peace with Manila. The MILF is also being blamed for the killing of 19 soldiers in fierce clashes last month in the town of Al-Barka near Sumisip.
The soldiers were sent on a test mission to arrest Asnawi who is also accused as behind the series of kidnappings for ransom and killings in Basilan, one of five provinces under the Muslim autonomous region.
The MILF has denied all accusations against Asnawi. (Mindanao Examiner)
1,148 total views, 1 views today