ZAMBOANGA CITY – Three more Abu Sayyaf militants surrendered to the military in the restive Muslim province of Basilan in southern Philippines where 13 other fighters yielded in the neighboring province of Sulu, officials said Monday.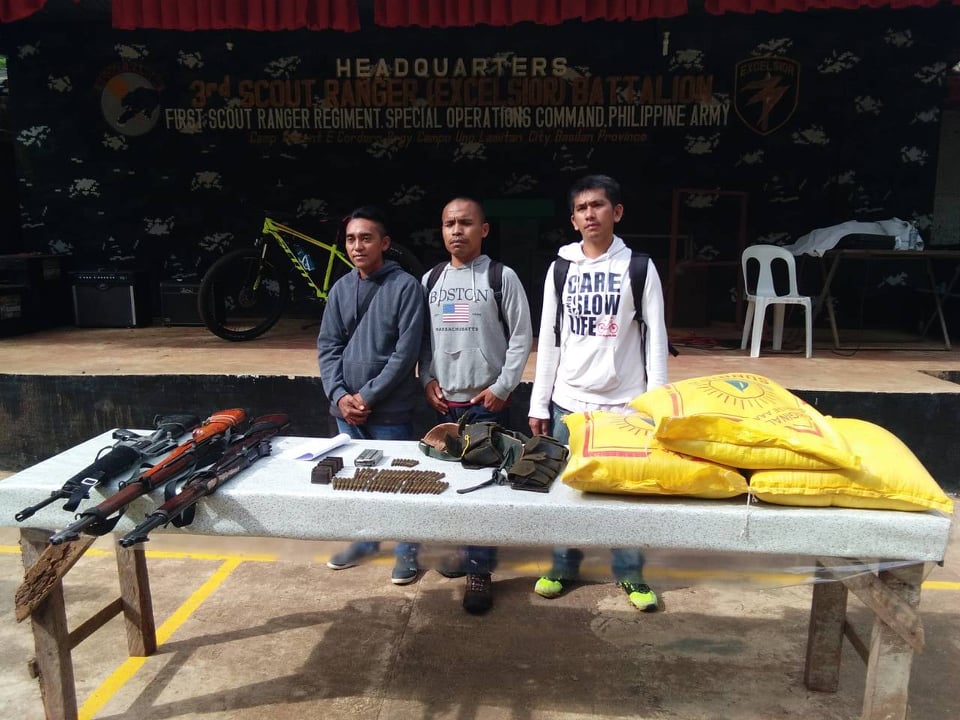 Lt. Col. Gerry Besana, a spokesman for the Western Mindanao Command, said the militants – Samir Laarin, 33; Ramil Mobarak, 33; and Naim Majid, 31, – also handed over three rifles to the 3rd Scout Ranger Battalion under Lt. Col. Montano Almodovar in the town of Akbar over the weekend.
He said the surrender was facilitated by army intelligence operatives in coordination with local town officials headed by Vice Mayor Ali Sali. The three men were then presented to Col. Fernando Reyeg, commander of the 104th Infantry Brigade. "This is a result of our continuing close collaboration with local government officials to convince these Abu Sayyaf members to lay down their arms and return to the fold of the law," Reyeg said.
Lt. Gen. Arnel dela Vega, chief of the Western Mindanao Command, said some 123 militants have surrendered to the military in Basilan, Sulu and in Tawi-Tawi and Zamboanga Peninsula since early this year.
He said relentless military campaign against the Abu Sayyaf have forced many militants, including their leaders, to surrender peacefully and take advantage of the government amnesty program under the so-called "Oplan: Balik-Loob." Under the program, the government provides financial aid to the Abu Sayyaf surrenderees and livelihood skills for them to be able to live a normal life with their family.
Some former militants are now helping the military in its campaign in an effort to convince the others to abandon their struggle and surrender peacefully.
Last week, the military said 13 Abu Sayyaf fighters surrendered to the 2nd Special Force Battalion under Lt. Col. Jessie Montoya in Sulu's Talipao town.
The military did not say who negotiated the surrender of the militants, of if they were involved in the spate of ransom kidnappings and terrorism in the restive region. The Abu Sayyaf is still holding nearly a dozen, mostly foreign sailors, they kidnapped at sea of the volatile region.
The Abu Sayyaf, whose leaders have pledged allegiance to the Islamic State, has been on a deadly campaign for over 2 decades now. It is one of several militant groups fighting for a separate homeland in Mindanao, which was previously under the Muslim rule. (Mindanao Examiner)
Like Us on Facebook: https://www.facebook.com/mindanaoexaminer
Follow Us on Twitter: https://twitter.com/MindanaoExamine
Read And Share Our News: https://www.mindanaoexaminer.com/
http://mindanaoexaminernewspaper.blogspot.com/
Digital Archives: https://issuu.com/mindanaoexaminernewspaper
See Media Rates: https://mindanaoexaminer.com/ad-rates/
1,137 total views, 1 views today