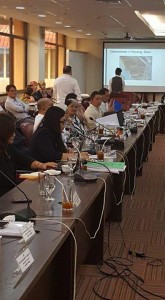 MANILA – A P12-billion increase in the proposed 2017 budget for the Autonomous Region in Muslim Mindanao (ARMM) has been questioned by Rep. Shernee Tan of Kusug Tausug party-list group.
The autonomous region is asking for a P41-billion budget for next year, from P29 billion for 2016.
Tan cited government records showing that only 1.67 percent of the P1.5-billion ARMM budget for building classrooms have been utilized for this year.
According to the Department of Public Works and Highways, classrooms in the ARMM have remained unfinished despite a P731-million budget allocated for the purpose for 2014 and P1.2 billion for 2015.
"Where are ARMM's billions? Much of them are unaccounted for. Sulu, in particular, did not benefit from any infrastructure projects of the local government as school buildings and roads remain decrepit and unimproved," Tan said in a statement on Wednesday.
"I hope that this will prompt the Ombudsman to investigate the Hataman administration and file appropriate charges against those responsible for such disservice to the ARMM people," Tan added.
She was referring to ARMM Gov. Mujiv Hataman. (Llanesca T. Panti, The Manila Times)
Link: http://www.manilatimes.net/armms-p12-billion-budget-hike-questioned/288340/
Like Us on Facebook: https://web.facebook.com/mindanaoexaminer
Follow Us on Twitter: https://twitter.com/MindanaoExamine
Read Our News on: http://www.mindanaoexaminer.com / http://mindanaoexaminernewspaper.blogspot.com/
Share Our News
Digital Archives: issuu.com/mindanaoexaminernewspaper
10,773 total views, 1 views today