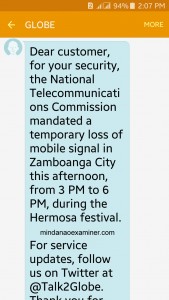 ZAMBOANGA CITY – Globe Telecom and Smart Communications have shut down Saturday their cell sites in Zamboanga City – where locals were celebrating the month-long feast of the Virgin Mary – for fear that terrorists may set off bombs during the annual festival.
The temporary loss of mobile signal coincided with the parade in downtown Zamboanga which was participated by hundreds of people.
Globe Telecom, in an advisory sent to its subscribers, said: "For your security, the National Telecommunications Commission mandated a temporary loss of mobile signal in Zamboanga City this afternoon from 3 p.m. to 6 p.m. during the Hermosa Festival."
The rival Smart Communications did not issue any advisory. 
The local government and police authorities also prohibited the parking of vehicles in areas where the parade passed. It also banned motorcycle riders from wearing of crash helmets and civilians were not allowed to use hooded jackets and ball caps and from carrying backpacks in downtown Zamboanga.
Security has been tightened in Zamboanga and citizens were urged to report to the police and military suspicious persons and abandoned baggage. Zamboanga had been bombed many times in the past by Abu Sayyaf, blamed by authorities for the spate of terrorism and ransom kidnappings in the troubled southern region. The terrorist group utilizes cell phone rigged to improvised explosives to detonate the bombs.
Just last month, a terrorist detonated a powerful bomb in Davao City in southern Philippines that killed 15 people and injured dozens more at an attack on a crowded night market there. (Mindanao Examiner)
Like Us on Facebook: https://web.facebook.com/mindanaoexaminer
Follow Us on Twitter: https://twitter.com/MindanaoExamine
Read Our News on: http://www.mindanaoexaminer.com / http://mindanaoexaminernewspaper.blogspot.com/
Share Our News
Digital Archives: issuu.com/mindanaoexaminernewspaper
9,457 total views, 1 views today