HOT OFF THE PRESS: The Mindanao Examiner Regional Newspaper Feb. 12-18, 2018
For all your publication needs and advertisements, please call Sales and Advertising Department at telephone numbers (062) 992-5480 in Zamboanga City and (082) 296-0658 in Davao City or mobile numbers (0995) 520-2358 and (0947) 482-3453. Or you may e-mail us at mindanaoexaminer@gmail.com
See media rates: http://mindanaoexaminer.com/ad-rates/
Like Us on Facebook: https://www.facebook.com/mindanaoexaminer
Follow Us on Twitter: https://twitter.com/MindanaoExamine
Read Our News on: http://www.mindanaoexaminer.com/
http://mindanaoexaminernewspaper.blogspot.com/
Share Our News
Digital Archives: http://issuu.com/mindanaoexaminernewspaper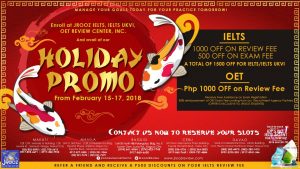 ENROLL AT JROOZ IELTS REVIEW CENTER ON FEBRUARY 15 – 17, 2018 AND AVAIL OF OUR IELTS/IELTS UKVI HOLIDAY PROMO.
A TOTAL OF P1500 OFF
P1000 OFF ON REVIEW FEE AND P500 OFF ON EXAM FEE
JROOZ OET HOLIDAY PROMO P1000 OFF ON REVIEW FEE. RECEIVE FREE ASSISTANCE ON EXAM REGISTRATION.
50% REIMBURSEMENT OF OET EXAM COMING FROM OUR RECRUITMENT AGENCY PARTNERS.
FOLLOW LINK: http://www.jroozreview.com/jrooz-ielts-holiday-promo-february-15-17-2018/?utm_source=mindanaoexaminer
25,917 total views, 1 views today