COTABATO CITY – Military forces shelled Monday suspected areas in central Mindanao, south of the Philippines, where pro-ISIS militants were hiding, officials said.
Officials said the target of the massive bombardment were the militant group called Bangsamoro Islamic Freedom Fighters, blamed by the military for the spate of bombings in the provinces of North Cotabato, Sultan Kudarat and Maguindanao.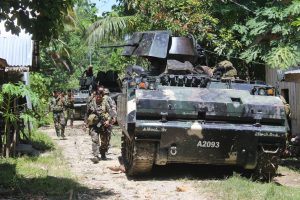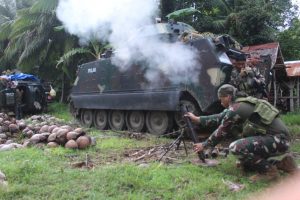 Military photos show troops battling BIFF militants in Mindanao. 
The military campaign began early this month and sporadic, but deadly clashes continue in those areas with security officials claiming to have killed dozens of militants. One army officer was also killed in the battle that left several soldiers wounded.
"All-out offensives launched by operating elements of Joint Task Force Central (Mindana0) are on-going to contain the Bangsamoro Islamic Freedom Fighters in Central Mindanao. Artillery shelling commenced at 3:30 a.m. today. It was followed by an air strike at 4:05 a.m. Troops then continued their advance," the Western Mindanao Command said in a bulletin it released early today.
"All available assets – air, land, and sea – are currently being deployed to pound the BIFF (militants), who are responsible for the conduct of atrocities, such as bombings in the provinces of Cotabato, Maguindanao, and Sultan Kudarat. Pursuit (operations) against the evading BIFF is continuously being conducted by operating troops," it added.
There was no immediate report of casualties on both sides in the latest fighting.
BIFF leaders have pledged allegiance with the Islamic State and vowed to put up a caliphate in the restive, but mineral-rich region. Many of the militants were former members of the larger Moro Islamic Liberation Front, which signed an interim peace deal with Manila in 2014. (Mindanao Examiner)
Like Us on Facebook: https://www.facebook.com/mindanaoexaminer
Follow Us on Twitter: https://twitter.com/MindanaoExamine
Read And Share Our News: https://www.mindanaoexaminer.com/
http://mindanaoexaminernewspaper.blogspot.com/
Digital Archives: https://issuu.com/mindanaoexaminernewspaper
See Media Rates: https://mindanaoexaminer.com/ad-rates/
3,898 total views, 1 views today