ZAMBOANGA CITY – A notorious prisoner, who is facing 3 counts of murder charges, escaped from prison on Wednesday after grabbing the gun of a policeman and then shooting him inside the police station in Zamboanga Sibugay's Tungawan town.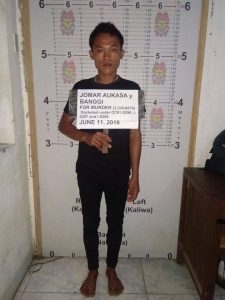 A police photo shows murder suspect Joemar Aukasa.
Police said it launched a massive search for Joemar Aukasa, who is included in the most wanted criminal list in the town. Aukasa managed to grab the gun of one of the policemen inside the police station while about to undergo booking process, and then shot the duty officer and escaped.
The incident occurred at around 9.55 a.m., according to the police.
"The suspect managed to escape after he grabbed the issued firearm of one of the police officers while the suspect was about to undergo booking process. Subsequently, suspect went out the room then shot the duty desk police officer and fled towards unknown direction bringing along the said firearm," police said in an alert.
The identity and medical condition of the police officer was not made public. No other details were made available by the police. (Mindanao Examiner)
Like Us on Facebook: https://www.facebook.com/mindanaoexaminer
Follow Us on Twitter: https://twitter.com/MindanaoExamine
Read Our News on: https://www.mindanaoexaminer.com/
Our Blog: https://mindanaoexaminernewspaper.blogspot.com/
Digital Archives: https://issuu.com/mindanaoexaminernewspaper
See media rates: https://mindanaoexaminer.com/ad-rates/
16,595 total views, 2 views today