ZAMBOANGA CITY – Security forces intercepted a boat trying to smuggle out over a dozen people illegally recruited from southern Philippines and promised jobs in neighboring Sabah in Malaysia, officials said Tuesday.
Rear Admiral Rene Medina, chief of the naval forces in Western Mindanao, said ML Moneza was carrying 20 people when it was intercepted by navy vessels off Zamboanga City late Monday. He said the boat was escorted back here.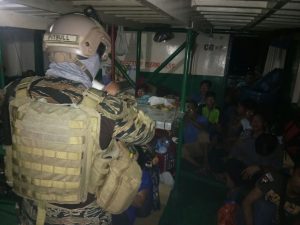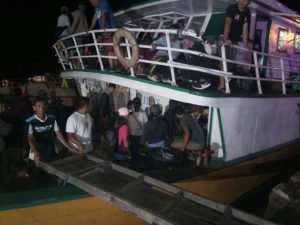 Medina said there is an investigation going on to determine who was behind the illegal recruitment or whether a big time syndicate is behind this. He said the operation was part of an intensified campaign against human trafficking.
"The successful campaign against human trafficking is a result of joint maritime law enforcement operations of the Philippine Navy and other partner agencies and this will continue to deter any unlawful activities at sea," Medina said.
He did not say how they uncovered the attempt to smuggle Filipinos to work illegally in Sabah, but among those involved in the operations were the Philippine Navy vessel BA486, a multipurpose assault craft; the Naval Special Operation Unit 6, the Naval Intelligence and Security Group, Joint Task Force Zamboanga and the Philippine Coast Guard. (Mindanao Examiner)
Like Us on Facebook: https://www.facebook.com/mindanaoexaminer
Follow Us on Twitter: https://twitter.com/MindanaoExamine
Share Our News: https://www.mindanaoexaminer.com
Mirror Site: https://mindanaoexaminernewspaper.blogspot.com
Digital Archives: https://issuu.com/mindanaoexaminernewspaper
Media Rates: https://mindanaoexaminer.com/ad-rates
Thank you so much for visiting our website. Your small donation will ensure the continued operation of the Mindanao Examiner Regional Newspaper. Thank you again for supporting us.  BPI: 952 5815649  Landbank: 195 113 9935
4,931 total views, 1 views today