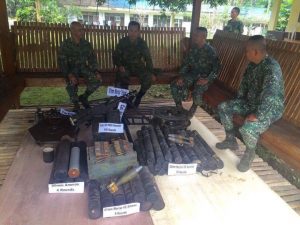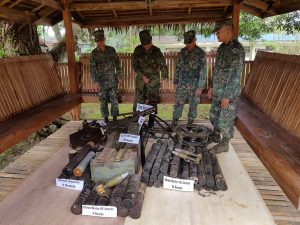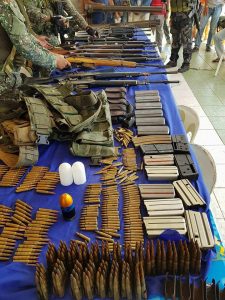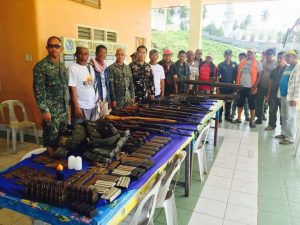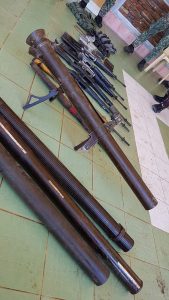 SULU – A municipal mayor in the southern Filipino province of Sulu led the surrender of a huge cache of illegal weapons and ammunition as part of the government drive against unlicensed firearms, officials said Saturday.
Army Captain Jo-ann Petinglay, a spokeswoman for the Western Mindanao Command, said Pata Mayor Anton Burahan and village chieftains surrendered the weapons on Friday to Brigadier General Cirilito Sobejana, commander of the Joint Task Force Sulu.
Among the weapons were three 81mm mortar tubes; one 90mm recoilless rifle, one barrel of .50-caliber machine gun, four M16 automatic rifles, three M14 rifles, five M1 rifles, one M79 grenade launcher and hundreds of rounds of ammunition.
Sobejana said the islands of Pata, Capual and Tongkil are known sources of illegal weapons. "We have monitored lawless groups getting their guns and ammunition from these area. The islands are also known safe havens of pirates, bandits and terrorists," he said.
Rear Admiral Rene Medina, commander of the Naval Forces Western Mindanao, four Abu Sayyaf militants also surrendered separately to the Marine Battalion Landing Team 1 in Pata where troops are searching for illegal weapons in the hands of civilians.
"Because of these efforts, the barangay captains of Pata Island are now encouraging their constituents to surrender all the other firearms existing in their area," Medina said.
Sulu Governor Totoh Tan has repeatedly appealed to civilians and businessmen to surrender illegal weapons or get gun permits from the police if they wanted to have firearms for their own protection against lawless elements. (Mindanao Examiner)
Like Us on Facebook: https://www.facebook.com/mindanaoexaminer
Follow Us on Twitter: https://twitter.com/MindanaoExamine
Read Our News on: http://www.mindanaoexaminer.com /http://mindanaoexaminernewspaper.blogspot.com/
Share Our News
Digital Archives: issuu.com/mindanaoexaminernewspaper
785 total views, 1 views today