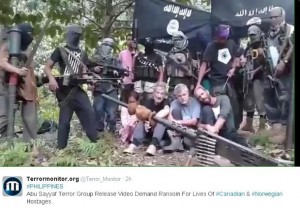 ZAMBOANGA CITY – Abu Sayyaf jihadists have reportedly executed Monday a Canadian man kidnapped in southern Philippines after his family failed to pay a huge ransom in exchange for his life, military intelligence and police reports said.
It said John Ridsdel, 68, was beheaded in the hinterlands of Patikul town in Sulu, one of five provinces under the volatile Autonomous Region in Muslim Mindanao, where the Abu Sayyaf is still holding over a dozen foreign hostages kidnapped in Tawi-Tawi province and in Sabah in Malaysia.
Intelligence reports said Ridsdel, a consultant for international miner TVI, was killed at around 3.45 p.m. by jihadists under Ben Tatoh Sawadjaan in the village called Lower Sinumaan. His severed head was recovered in a plastic bag in the town of Jolo later in the day. Two men on a motorcycle dumped the bag near a group of men playing basketball there.
Philippine media also reported Ridsdel's beheading. Radio network Bombo said Ridsdel was executed after the Abu Sayyaf did not get their ransom demand. The report can be accessed on this URL:  http://www.bomboradyo.com/news/top-stories/item/148048-canadian-hostage-pinugutan-ng-asg-sa-sulu.
Zamboanga City broadcaster Emedia also broke the news of the killing and national television network TV-5 also ran the same story on its late night news.
Ridsdel was kidnapped by 10 gunmen from the resort island of Samal in Davao del Norte province in September 21 last year along with fellow Canadian Robert Hall, 50; and a Norwegian man Kjartan Sekkingstad, 56, and his Filipina girlfriend, Maritess Flor.
The Abu Sayyaf demanded as much as P300 million each for the safe release of the foreign hostages and set April 8 for the deadline, but extended this until April 25. The Abu Sayyaf also released several videos of Ridsdel, Hall and Sekkingstad appealing to their governments and the Philippines to pay the Abu Sayyaf ransoms.
"We're told that this is the absolute final warning so this is a final urgent appeal to governments, Philippine, Canadian, and families. If 300 million (pesos) is not paid for me by 3 p.m. on April 25th, they will behead me," Ridsdel said in his last appeal.
There was no immediate statement from the Canadian embassy or the Western Mindanao Command and neither the police in the autonomous region on the brutal murder of Ridsdel, and the fate of the other hostages remain unknown, but President Benigno Aquino has ordered security forces to rescue the captives.
The Abu Sayyaf has pledged allegiance with the Islamic State militant group. (Ely Dumaboc)
Share Our News
Like Us on Facebook: https://web.facebook.com/mindanaoexaminer
Follow Us on Twitter: https://twitter.com/MindanaoExamine
Read Our News on: http://www.mindanaoexaminer.com / http://mindanaoexaminernewspaper.blogspot.com/
Digital Archives: https://issuu.com/mindanaoexaminernewspaper
15,135 total views, 1 views today