3rd Gawad ng Bayani ng Kalikasan launched; CSOs to honor 'endangered' environmentalists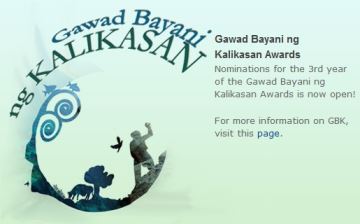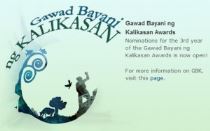 MANILA (Mindanao Examiner / Aug. 31, 2012) – Amid the growing number of environmentalists persecuted in the Philippines, civil society organizations led by Center for Environmental Concerns-Philippines will launch the 3rd Gawad Bayani ng Kalikasan (GBK) to honor individuals and groups dedicated to the defense of the environment and the rights of the people.
"The 3rd GBK comes at a crucial point in time, when defenders of the environment have become open targets of human rights violations. Instead of cowering in fear, these people defied danger and continued with painstaking environmental work. They deserve to be celebrated for their courage and tenacity," said CEC-Phils Executive Director Frances Quimpo in a statement sent to the Mindanao Examiner.
GBK said it recognizes grassroots efforts to protect the environment which can be in various forms such as advocacy, campaigns, research, community services and mass media or cultural work. Nominations for the third GBK officially opened this August and will close on the midnight of November 30, 2012.
Past recipients of the awards include anti-mining activist Eliezer Billanes, ethnobotanist Leonard Co and broadcast journalist Gerardo Ortega.
Billanes and Ortega were assassinated for their vocal opposition to environmentally-destructive projects, while Co was allegedly killed by soldiers who mistook the botanist for an armed communist insurgent.
Environmental activist group Kalikasan People's Network for the Environment (KPNE) have recorded a total of 58 HRVs against environmentalists since 2001.
The number is steadily rising due to intensified militarization in far-flung areas where mining and other extractive industries prevail, making environmentalists an "endangered species," according to KPNE.
The alternative awards event is open to all Filipino individuals and organizations. Three individuals and another three organizations, plus a most distinguished awardee will be chosen by an independent board of judges.
Katangi-tanging Gawad Awarded to an individual or organization in recognition of his/her/their being an inspiration and example to the Filipino people for offering time and talents for the defense of the environment and advancement of the people's welfare.
Gawad Indibidwal Awarded to individuals who have demonstrated extraordinary ability and effort to uphold the environment and people's welfare, whether in the form of advocacy, campaigns, education, research, technology development, community services, mass media, or cultural work.

Gawad Organisasyon Awarded to people's and community organizations and institutions that have demonstrated unity in upholding the welfare of the people and of the environment by exemplary actions and advocacy, campaigns, education, research, technology development, community services, mass media, or cultural work.
Nomination forms and other information on GBK can be accessed at ww.cecphils.org. The awarding ceremony will coincide with the celebration of Earth Day on April 22, 2013.
"Environmental defenders should not only be remembered in death. Each day they spend in struggle must be honored and celebrated by the Filipino people," Quimpo said.
The 3rd GBK is co-organized by the GBK Awards Committee, the Department of Environment and Natural Resources Special Concerns Office, Foundation for the Philippine Environment, AGHAM-Advocates of Science and Technology for the People, Haribon Foundation, Ecowaste Coalition, Panalipdan Mindanao and Central Visayas Fisherfolk Development Center Inc.
1,199 total views, 1 views today