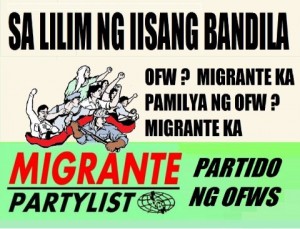 MANILA (Mindanao Examiner / Apr. 29, 2013) – The Migrante Sectoral Party chapter in New Zealand has joined urgent calls for President Benigno Simeon Aquino to stop wasting time and start using government funds for the benefit of thousands of stranded Filipinos in Jeddah awaiting immediate repatriation.
"Bilis-bilisan na sana ni P-Noy ang pagtugon sa kahilingan ng ating mga kababayan bago pa madagdagan ang mga uuwing bangkay. It is for the sake of thousands of distressed OFWs in the Middle East and around the globe that we demand the president and all the politicians running for office to stop neglecting OFWs in distress once they are in power," Francisco Mangulabnan, coordinator of Migrante Sectoral Party – NZ, said in a statement sent to the Mindanao Examiner.
In March, Migrante Aotearoa together with Filipino Artists in New Zealand, Inc., Dunedin Philippine Club, Philippine Society of Canterbury, United Filipinos MidCanterbury and Filipino Dairy Workers NZ collaborated for the showing of a movie that highlighted the plight of Filipino migrant workers in the Middle East.
The film highlighted how the group Migrante assisted a runaway OFW in the Middle East after a tragic turn of events with her abusive employer. Over 1200 Filipinos, Kiwis and migrants of other ethnicities gathered at the screenings of the film "Migrante: The Filipino Diaspora" in Auckland, Wellington, Dunedin, Christchurch and Ashburton.
Not a few shed tears and several people commented that the ending was hanging. Many wondered if there would be a sequel coming? "Will Frida be reunited with her family in the Philippines?" they wondered. In Christchurch, a Kiwi remarked, "We should be grateful that this is not happening in New Zealand."
"In real life, we challenge Pres. Aquino not to leave us hanging with the question – Will the stranded OFWs in Jeddah be reunited with their loved ones in the Philippines again?" Mangulabnan said.
"It is for the likes of Frida, the main character in the Migrante movie who was forced to leave her family behind in search of better opportunity abroad, that we seek meaningful socio-economic reforms in the Philippines. Migrante is advocating for the government create decent jobs at home in order to keep Filipino families together," he said.
1,717 total views, 1 views today