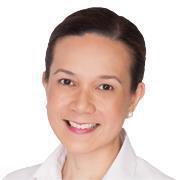 Grace Poe
DAVAO CITY (Mindanao Examiner / Mar. 31, 2013) – What is there to boast? This is the question posed by voters whether Grace Poe-Llamanzares would be as popular as her stepfather or not at all, but she is obviously riding on the popularity of the late action king Fernando Poe Jr., to push thru with her ambition to be one of the 12 senators come the next Congress.
To begin with, Grace Poe dropped her husband's surname "Llamanzares" in her campaign propaganda apparently to have a name recall that she hopes to transform into votes since her father is very popular among the Masang Pilipino, according to political analysts.
She knows very well, and others would definitely agree, that she cannot make it to the Senate without using "Poe" as her campaign name. By doing so, Grace Poe is deceiving the Masang Pilipino, who her stepfather loves so well.
Analysts said the only thing that she can "boast" about was being chairman of the Movie and Television Review and Classification Board.
In other words, Grace Poe lacks the experience needed to become senator of the land just like Nancy Binay, daughter of Vice President Jejomar Binay, who like Poe, is also eyeing a seat in the Senate.
Grace Poe became active in politics after she joined several protest rallies in various parts of the country soon after FPJ's death in 2004 and the eventual discovery of massive cheating purportedly orchestrated by FPJ's closest political rival, the former President Gloria Arroyo.
Political analysts said it was evident that Grace Poe joined in the organization of Kontra-Daya, a coalition of civil society groups opposed to the 2010 electoral fraud, for her own personal gains, and that is to seek a seat in the Senate come 2013.
"She is a nobody. Even her credentials show that she is unfit to become a senator. What does she know about being a senator when she had not even experienced to become at least a municipal councillor or even a barangay kagawad?" one observer asked.
"The voting populace should think not once, not twice but a million times before they consider her to the senate. Sayang ang boto natin sa kanya (Grace Poe). We better give our vote to other deserving candidates. God save the Philippines if she should win," he said. (Mindanao Examiner)
1,708 total views, 1 views today