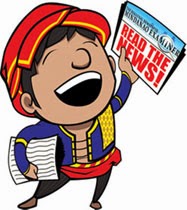 MANILA – Top 10 graduates of every public high school are now assured of scholarships in 112 state universities and colleges, with President Benigno Aquino's signing into law of the Iskolar ng Bayan Program, now Republic Act No. 10648, according to Rep. Roman Romulo.
Romulo, chairman of the House committee on higher and technical education, said the new law will enable a greater number of families to fulfill their hopes and dreams of sending their children to college.
"We expect around 80,000 of the country's best-performing public high school graduates to benefit from the new legislation. Highly improved access to a college education is crucially important in fighting poverty and growing our middle class families," Romulo said in a statement sent to the regional newspaper Mindanao Examiner.

Under the Iskolar ng Bayan Program, the top 10 graduates will be entitled to admission to the SUC of his or her choice within his or her province, without having to pay for first-year tuition and miscellaneous fees.
According to the Department of Education, there are more than 8,000 public high schools nationwide.Public high schools with more than 1,000 graduates will be entitled to one additional college scholarship slot for every 500 graduates, to be granted to graduates whose ranks immediately follow the top 10.
After the first-year college scholarship under the program, the student beneficiary will be covered by financial assistance from the Commission on Higher Education (CHED), if qualified.
In the 2015 national budget, SUCs have a total of P3.5 billion available for scholarships. This is apart from the CHED's P2.2 billion allotment for student financial aid.
Romulo is also author of the proposed Voluntary Student Loan Program by Private Banks, which since been passed on third and final reading by the House of Representatives, and is now pending Senate action.
Under the program, an eligible student may obtain a low-cost bank loan to pay for the tuition of the college where the borrower has been accepted. The student may also use the money to finance all other schooling as well as living expenses.
The loan would have an effective interest rate pegged to the 91-day Treasury bill rate, which stood at 1.144 percent per annum as of Novmber 28.
The bank may apply an add-on 3% to 5% annual interest rate, but instead of the student paying for the extra interest charges, the lender may claim the corresponding amount as tax credits. The bank may then use the credits to pay, or offset, its tax obligations.
The borrower would pay off the loan periodically, starting two years after graduation, but not later than eight years after leaving college. Borrowers would be issued either Social Security System (SSS) or Government Service Insurance System (GSIS) numbers, depending on their preferred future employment.
The bank may then enlist the SSS or GSIS to collect repayments via salary deduction or withholding. The lender may also ask the Philippine Overseas Employment Administration to help collect from borrowers with job contracts abroad. (Mindanao Examiner)
Like Us on Facebook: https://www.facebook.com/mindanaoexaminer
Follow Us on Twitter: https://twitter.com/MindanaoExamine
Read Our News on: http://www.mindanaoexaminer.com and http://www.mindanaoexaminer.net
2,071 total views, 2 views today