Mining firm TVIRD closes 'danger zone' in Zamboanga to protect public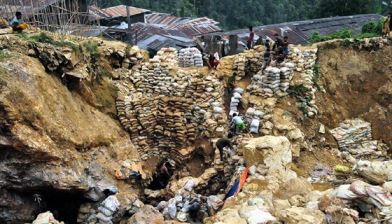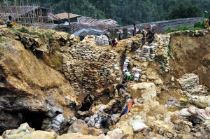 A site of illegal mining operations in Zamboanga del Sur's Balabag Hill.
PAGADIAN CITY (Mindanao Examiner / Oct. 31, 2012) – TVI Resource Development (Phils.) Inc. on Wednesday said it is limiting the entry of civilians to its Mineral Production Sharing Agreement area in Sitio Balabag in the town of Bayog in Zamboanga del Sur province.
It made the announcement after intelligence reports from authorities revealed the possibility that an undisclosed number of high-powered firearms, explosives, and regulated chemicals are still being concealed by illegal mining operators in the area.
"The entry restriction to Balabag is a precautionary measure that the company is taking to protect the safety of the community," Yulo Perez, TVIRD's Vice President for Operations, said in a statement sent to the regional newspaper Mindanao Examiner.
He added: "Earlier geological studies conducted by company geologists likewise revealed that Balabag has become a geo-hazard area due to the proliferation of illegal miners' un-engineered underground mine tunnels."
Bayog Mayor Leonardo Babasa Jr. also said that Balabag has become a danger zone and poses both health safety and security risks to people. Aside from polluting the area with their chemical-laden mine wastes, illegal miners are likewise maintaining armed personnel who are being blamed for lawlessness and rising criminality, including a number of unresolved deaths in the area.
The information was confirmed by locals who said that they have seen other high-powered firearms, which were not among those confiscated by police authorities in a raid conducted in the area previously.
An improvised explosive device also exploded last week at a road in the village of Dipili just near to TVIRD's MPSA area and authorities were saying that the blast could be mine-related.
Just recently, members of the Criminal Investigation and Detection Group, led by Senior Superintendent Edgar Danao, raided several illegal mine processing facilities in Balabag and confiscated at least 13 high-powered firearms that included an M16 Armalite rifle, a KG9 sub-machine gun, some 4,000 meters of detonating cord, four sacks of commercial dynamites, and assorted ammunition.
Police also seized cyanide and nitric acid which are highly toxic chemicals used in gold mining operations. At least 16 suspected illegal miners, including Bayog town councilor Julieto Monding, are now facing multiple charges for violating Republic Act No. 8294 for the illegal possession of firearms, ammunition, and explosives. They too, were charged for violating RA 6969, for the possession of toxic substances.
Following the CIDG raid, Zamboanga del Sur Governor Antonio Cerilles, ordered the implementation of a cease and desist Order on all illegal mining operations in Balabag. A multi-agency composite team, comprised of representatives from the Provincial and Municipal governments, Mines and Geosciences Bureau, Environmental Management Bureau, Zamboanga del Sur Provincial Police Office, and National Bureau of Investigation.
A total of 108 rod mills and 65 carbon-in-pulp plants were dismantled by authorities.
2,285 total views, 2 views today