Philippine Defense chief, military commanders inspect troops battling Abu Sayyaf in frontline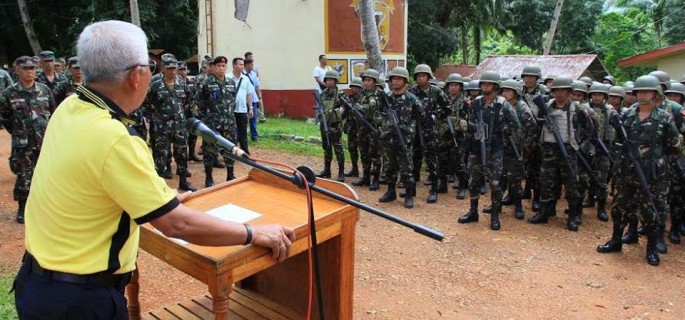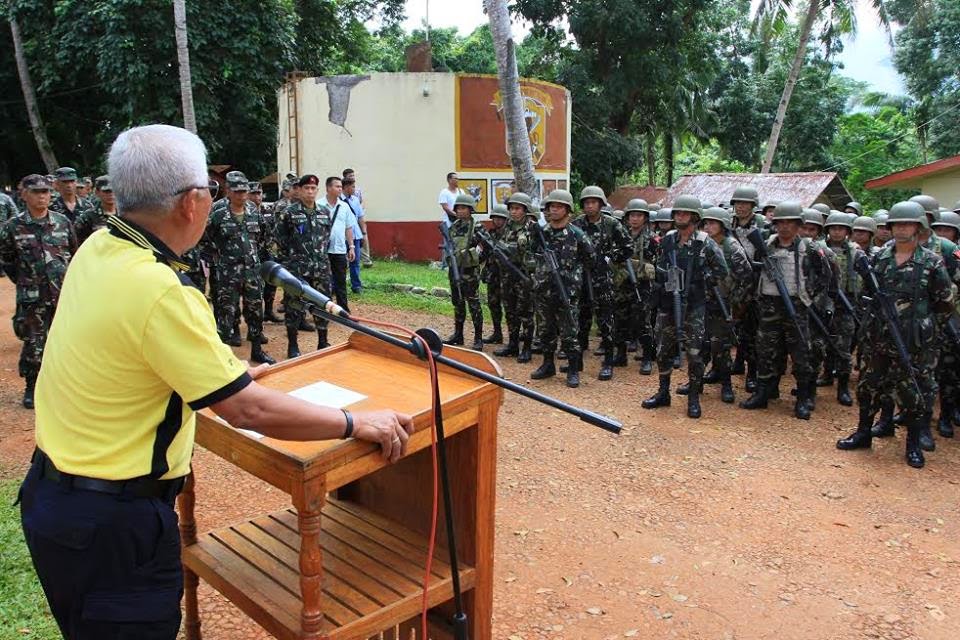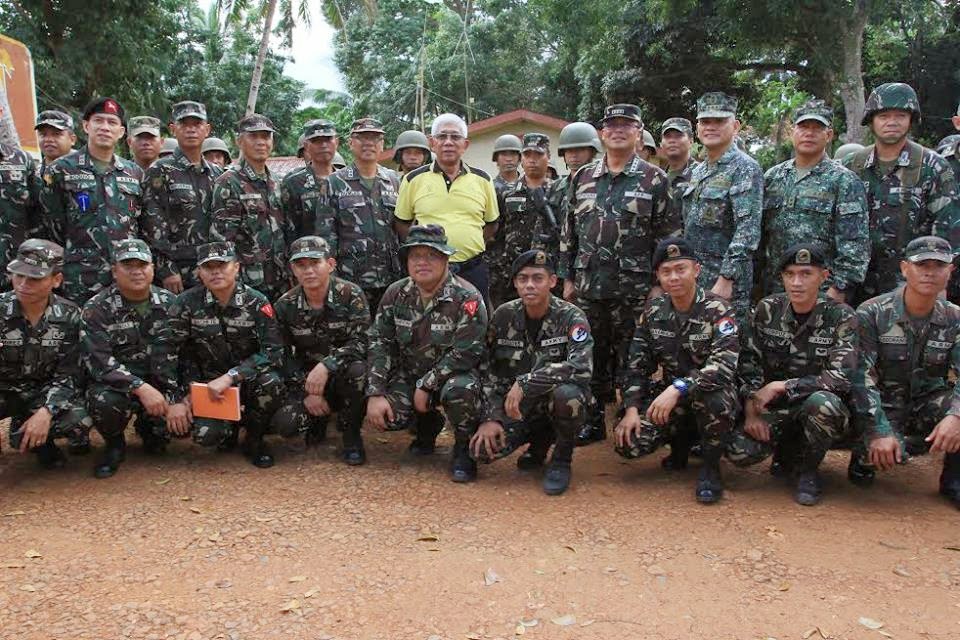 A Philippine military photo shows Defense Secretary Voltaire Gazmin with Filipino troops in Sulu province. Gazmin inspected military forces battling Abu Sayyaf militants in the province. (Mindanao Examiner)
ZAMBOANGA CITY – Philippine Defense Secretary Voltaire Gazmin inspected troops deployed in the southern Sulu province where security forces are battling Abu Sayyaf militants tied to al-Qaeda and Jemaah Islamiya, officials said Friday.
Gazmin arrived on Thursday and spoke with soldiers inside a military base in the capital town of Jolo. He was accompanied by Armed Forces' Chief-of-Staff General Gregorio Catapang and Western Mindanao military commander General Rustico Guererro, and Rear Admiral Reynaldo Yoma, who are in-charge of the operations against the Abu Sayyaf, according to Ensign Chester Ian Ramos, a spokesman for the naval forces in western Mindanao.
"It was routine visit by the Secretary of National Defense and our troops are in high morale because of the visit of Defense Secretary Gazmin and Chief of Staff Catapang and other high-ranking military officials, including Western Mindanao Command chief General Rustico Guererro and Rear Admiral Reynaldo Yoma," he told the regional newspaper Mindanao Examiner.
Marine Captain Maria Rowena Muyuela, a spokesperson for the Western Mindanao Command, also said that Gazmin and Catapang inspected the troops in Sulu. "They inspected and spoke to our troops in Sulu," she said in a separate interview without further elaborating.
Gazmin was also briefed by military commanders on the ongoing operations against the militants who recently freed two German yachters Stefan Viktor Okonek, 71, and Henrike Diesen, 55, in exchange for P250 million ransoms.
The duo was heading to Sabah in Malaysia on a private yacht from a holiday in Palawan province when militants who were returning to the southern Philippines from a failed kidnapping in Sabah spotted the Germans and seized them on April 25.
Now, the militants are also threatening to behead a kidnapped Malaysian fish breeder Chan Sai Chuin, 32, if ransom is not paid by his family this November. The militants are demanding 3 million ringgits (P41 million) for the safe release of the fish breeder, who was kidnapped along with a Filipino worker on June 16 this year from a fish farm in the town of Kunak in Tawau District in Sabah.
The Abu Sayyaf is also holding a Malaysian policeman Kons Zakiah Aleip, 26, who was seized on June 12 also this year following a clash in Sabah that killed another policeman. The militants are demanding 5 million ringgits (P68.3 million).
Aside from the Malaysians, the militants are still holding hostage a 64-year old Japanese treasure hunter Katayama Mamaito, who was kidnapped from Pangutaran Island in July 2010; and two European wildlife photographers Ewold Horn, 52, from Holland; and Lorenzo Vinciguerre, 47, from Switzerland, who were taken captive in the coastal village of Parangan in Panglima Sugala town in the southern Tawi-Tawi province in 2012. And several Filipinos kidnapped in other provinces and brought to Sulu.
The militants also freed an eight-year old girl on October 29 after her father paid an undetermined ransom to the Abu Sayyaf in Jolo town. The girl was kidnapped in July 25 in Zamboanga Sibugay's Olutanga town and brought to Sulu, one of five provinces under the restive Muslim autonomous region. (Mindanao Examiner)
Like Us on Facebook: https://www.facebook.com/mindanaoexaminer
Follow Us on Twitter: https://twitter.com/MindanaoExamine
Read Our News on: http://www.mindanaoexaminer.com and http://www.mindanaoexaminer.net
1,381 total views, 1 views today