Philippine human rights group howls in protest over Aquino records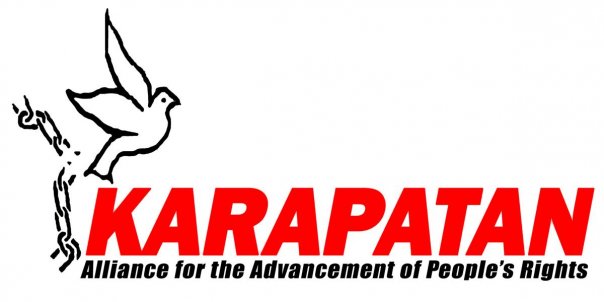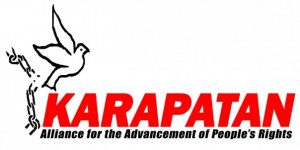 MANILA (Mindanao Examiner / June 29, 2013) – A Philippine human rights organization has recorded over a hundred cases of extra-judicial killings and various rights violations under the current presidency of Benigno Aquino III.
"As predicted, the Aquino government on its third year, went on a rampage against its own people, attacking communities and individuals who stand in the way of private, local and foreign big business which, Aquino, like Marcos and the series of democratic governments after the dictator, serves best," Marie Enriquez, chairperson of Karapatan, said in a statement sent to the regional newspaper Mindanao Examiner.
She said from July 2010 at the start of Aquino's presidency up to April 30 this year, they have documented the following – 142 victims of extra-judicial killings; 164 cases of frustrated killings; 16 victims of enforced disappearance; 293 people arrested and detained and 16 children killed.
She said when Aquino launched his own version of "unsheathing the sword of war" last year; it resulted to more cases of human rights violations and military abuses.
"The victims of rights violations are the same people who were displaced by big business like logging and transnational mining companies that are coddled by the Aquino government; the victims are the same people who are vulnerable to disasters because of imperialist plunder of the country's natural resources and the consequent environmental degradation; the victims are the same poor Filipino people who are targets of the government's red tagging when they assert their rights," Enriquez said.
Karapatan characterized Aquino's three years in office as "prime time for impunity as perpetrators, both under Aquino's regime and from Arroyo's, remain unpunished and are instead promoted to positions where they wield more power to attack the people."
Enriquez said: "Rights violations are in the context of Aquino's anti-people economic policies like the Public-Private Partnership. The Aquino government offers the poor Filipino people's lives in a silver platter to private and foreign companies which, apart from enjoying tax holidays, are raking in super profits by jacking up prices of basic commodities, transportation fare, medical and educational services."
She said Aquino's Oplan Bayanihan serves to protect all globalization policies. She said Aquino and his media spinner boast of economic growth that only the rich and influential in Philippine society can feel and enjoy.

"The victims of State terror and human rights violations are those who challenge inequality and oppression; and those who work to change all these. Three years of violence and trickery to cover up such violence is more than enough for the Filipino people. The people should stand up for their rights and stop the plunder, state terror and impunity that engender more human rights violations," Enriquez said.
1,179 total views, 5 views today