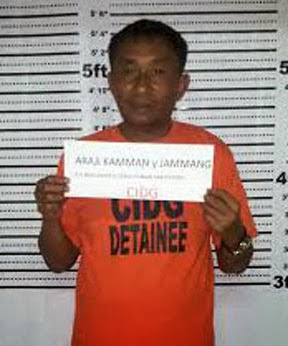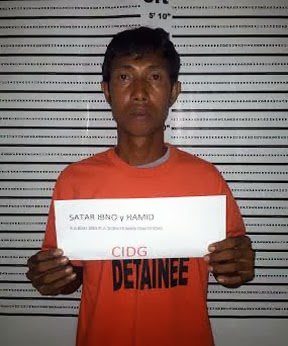 Photos released by the police to the Mindanao Examiner Regional Newspaper show suspects Arraji Kammang and Sattar Ibno during processing at the office of the Criminal Investigation and Detection Group in Zamboanga City.
PAGADIAN CITY (Mindanao Examiner / Jan. 31, 2014) – Police rescued a woman and arrested two alleged human traffickers, one of them a hotel owner implicated in several killings in Zamboanga City in southern Philippines.
Chief Inspector Ariel Huesca, a regional police spokesman, identified those arrested as Sattar Ibno and Arraji Kammang, reported owner of a hotel in Zamboanga City. The duo was arrested in the village of Mercedes where police rescued the woman – a resident of Malabon City in Luzon Island – who has been recruited by the duo.
He said police are still searching for other victims who were reportedly being held in one of the island-villages in Zamboanga.
Huesca said Kammang, alias Hadji Alex, had previously used his ferry, ML Weldelyn, to allegedly transport their recruited victims from Zamboanga to Sabah in Malaysia. He said the duo has been under long surveillance until their arrest.
"They were arrested after a month-long and tedious intelligence surveillance being conducted by the task force, thus, an entrapment was conducted which resulted to their arrest," Huesca said, referring to the Sea-Based Anti-Trafficking Task Force composed of the police and military.
"The duo is known as notorious human traffickers operating in Zamboanga Peninsula with its based in an undisclosed place in Zamboanga City. Several have become victims of their recruitment. They lured young lasses from the nearby provinces and recruited them with promised of good jobs and offered high salary in Sabah, Malaysia."
"However, while in Sabah, Malaysia, instead of working in decent jobs, they landed on the jobs which were against their will and even exploited them into prostitution. Worst, the victims cannot file complaint with the authorities since they were undocumented workers," Huesca said in a report sent out to journalists.
He said further police investigation also led to the alleged involvement of Kammang in at least 6 cases of murders and attempted murders which eventually was dismissed by a local court on the basis of an affidavit which claimed that the hotel owner was already dead.
"Further investigation conducted has unmasked his involvement in killing incidents, wherein, warrants of arrest for six counts of murder and attempted murder were issued against him.  However, these cases were dismissed after an unidentified person executed an affidavit and stated therein that Hadji Alex was already dead," Huesca said.
"Likewise, subject was the prime suspect on a shooting incident in Barangay Tetuan, Zamboanga City, which resulted to the death of Hadji Pambit Omar sometime in the latter part of 2013, and the wounding of a woman, who was hit by a stray bullet from the firearm of the suspect," he added.
Huesca said the duo has been handed over to the Criminal Investigation and Detection Group in Zamboanga City while charges are being prepared against them.
"The Criminal Investigation and Detection Group is conducting a thorough investigation on the involvement Hadji Alex in the killing incidents and taking cognizance regarding the dismissed cases filed against him due to the affidavit being executed by an unscrupulous individual and attested that he was already dead. Should the affiant turned out to be a hoax, the Criminal Investigation and Detection Group will revive the dismissed cases and will make representation with the concerned court to quash the first decision relative hereto," Huesca said.
There was no immediate statement from either Kammang or Ibno over the police accusations. (Mindanao Examiner)
1,708 total views, 1 views today