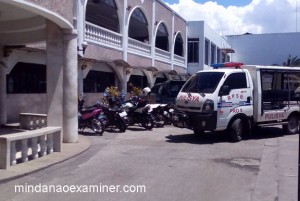 PAGADIAN CITY – A police commander was killed and another wounded after they were allegedly shot by the group of a mayoralty candidate in Zamboanga del Norte province in southern Philippines, police said on Thursday.
Police said Senior Inspector Mirdan Usama, leader of the 1st Maneuvering Platoon of the Regional Public Safety Battalion 9, was killed in the attack late Wednesday that also wounded another officer, PO1 Jimmy Panganiban, in the village called Camul in Tampilisan town.
Usama and two other officers were trying to intercept a pickup truck where armed men had been spotted after they earlier ran into a police checkpoint. But instead of stopping the truck, its passengers opened fire on the policemen and sped away only to be intercepted by security forces at a road block set up on the highway.
The passengers of the truck, according to the police, turned out to be the group of Alson Chan, who is running for mayor in Tampilisan town, and three of his bodyguards.
"They have been arrested, all four of them, including Chan, who are the prime suspects in the killing of Senior Inspector Usama," a police investigator in the case, SPO1 Paipa, told the regional newspaper Mindanao Examiner by phone from his headquarters in Tampilisan, adding, they are still investigating the incident.
Usama was rushed to the Sibud County Hospital in Titay town in the neighboring Zamboanga Sibugay province, but died from his wounds. "PSI Mirdan A. Usama sustained gunshot wounds that caused his death," a separate police report said. "Suspects are now detained at Tampilisan municipal police station for further investigation."
The body of Usama was brought to a funeral house in Zamboanga City on Thursday. There was no immediate statement from Chan about the shooting. (Ely Dumaboc)
Share Our News
Like Us on Facebook: https://web.facebook.com/mindanaoexaminer
Follow Us on Twitter: https://twitter.com/MindanaoExamine
Read Our News on: http://www.mindanaoexaminer.com / http://mindanaoexaminernewspaper.blogspot.com/
Digital Archives: https://issuu.com/mindanaoexaminernewspaper
25,559 total views, 1 views today