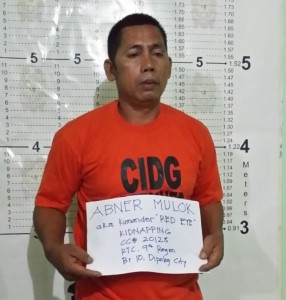 ZAMBOANGA CITY – Police and military have arrested one of the alleged Abu Sayyaf rebels who kidnapped former Italian missionary in a joint operation Sunday in southern Philippines, officials said.
Officials said security forces tracked down Abner Mulok alias Kumander Red Eye in his hideout Kaliantana village in Zamboanga Sibugay's Naga town. Mulok is said to be a follower of Abu Sayyaf sub-leader Idang Susukan in Sulu province, who serves as "spotter" for probable kidnap victims in Zamboanga region.
"Mulok has a direct link to Abu Sayyaf sub-leader Idang Susukan and is allegedly being utilized by the Sulu-based Abu Sayyaf in many kidnapping operations in Zamboanga Peninsula. The subject was arrested by the military and police by virtue of a warrant of arrest for the kidnapping of Italian former priest, Rolando del Torchio," said army Major Filemon Tan, a spokesman for the military's Western Mindanao Command.
The 57-year old Del Torchio, who runs a pizzeria in Dipolog City in Zamboanga del Norte province, was kidnapped by Mulok's group on October 07, 2015 and brought to Sulu until his release six months later.
Del Torchio was already in a ferry bound for Zamboanga City when security forces learned about his release and immediately picked him up and then brought to an army base in Sulu. He worked as a missionary in 1984 with the Pontifical Institute for Foreign Missions until 2001.
Tan said military and police operations against the Abu Sayyaf is continuing in an effort to free several foreigners still being held by the ISIS-linked rebel group in southern Philippines. (Mindanao Examiner)
Like Us on Facebook: https://web.facebook.com/mindanaoexaminer
Follow Us on Twitter: https://twitter.com/MindanaoExamine
Read Our News on: http://www.mindanaoexaminer.com / http://mindanaoexaminernewspaper.blogspot.com/
Digital Archives: issuu.com/mindanaoexaminernewspaper
Share Our News
17,211 total views, 1 views today