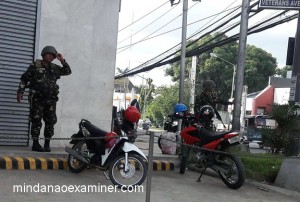 ZAMBOANGA CITY – At least 1 soldier was killed and 6 more were wounded in fierce clashes Thursday with the Abu Sayyaf in Sulu province in southern Philippines, the military said.
It said troops clashed with some 130 gunmen under Radulan Sahiron in the village of Kabuntakas in Patikul town.
No other details were provided by the military except that security forces were continuing its operation in Sulu against the radical group blamed for terrorism and ransom kidnappings in the troubled region.
The army is also battling about 200 Abu Sayyaf fighters in nearby Basilan where troops are targeting to kill terrorist leader Isnilon Hapilon and another senior commander Puruji Indama. Fighting was raging between the two groups since Wednesday in Ungkaya Pukan and Tipo-Tipo towns.
The military – quoting intelligence reports – insists many Abu Sayyaf fighters had been killed and wounded in the battle field, but not a single body had been recovered by soldiers in the provinces.  (With a report from Ely Dumaboc)
Like Us on Facebook: https://web.facebook.com/mindanaoexaminer
Follow Us on Twitter: https://twitter.com/MindanaoExamine
Read Our News on: http://www.mindanaoexaminer.com / http://mindanaoexaminernewspaper.blogspot.com/
Share Our News
Digital Archives: issuu.com/mindanaoexaminernewspaper
11,585 total views, 1 views today