Tucao Mastura attracts huge crowd again in Maguindanao's UNA rally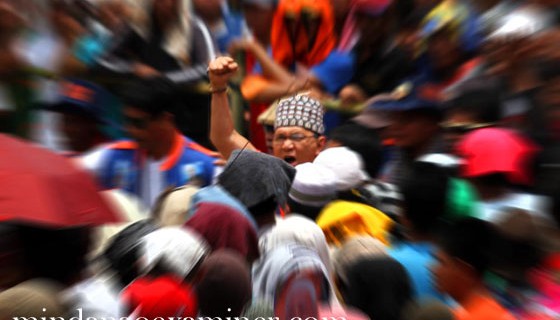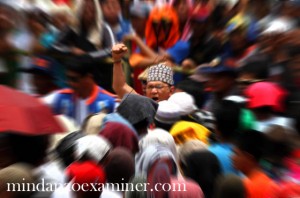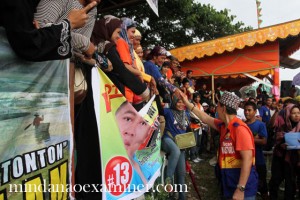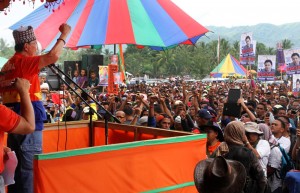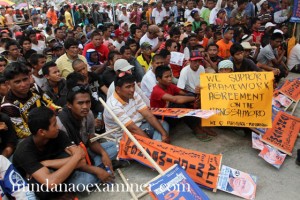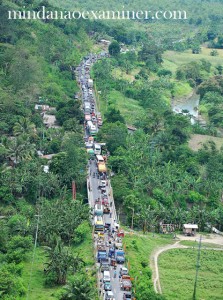 UNA political rally led by Datu Tucao Mastura, its gubernatorial bet in Maguindanao province. (Mindanao Examiner Photo – Mark Navales)
MAGUINDANAO (Mindanao Examiner / Apr. 29, 2013) – Some 200,000 supporters of the United Nationalist Alliance led by its gubernatorial bet Datu Tucao Mastura led a huge political rally in the Maguindanao town of Datu Paglas.
Mastura, the mayor of Sultan Kudarat, said the rally is one of the biggest political gatherings in Mindanao. The rally was also attended by UNA senatorial candidate Ernesto Maceda.
Aerial pictures also showed the long line of vehicles leading to the rally site.
Supporters of Mastura – who is running against incumbent Governor Esmael Mangudadatu – chanted his name and applauded him many times every time he spoke about his platform of government.
He also laid out his peace and development programs for Maguindanao, one of five provinces under the Muslim autonomous region in Mindanao. Mastura is one of the biggest supporters of the government peace talks with the Moro Islamic Liberation in Mindanao.
Mastura also spoke to his supporters, shaking their hands one by one, and thanking them for their continued support.
Just earlier this month, Mastura and his running mate Datu Ali Midtimbang also drew a huge crowd in the town of Talayan where they campaigned for the May 13 local and national polls.
Mastura has previously said that there is much work to be done in the province and unity and hard work is needed to achieve all these.
"This election is the time to persuade and to let the Bangsamoro feel what they've been fighting for. Let us choose the right people with dignity and integrity that can lead us to the right path of governance," he said.
Mastura said he would prioritize livelihood projects and strengthen this more to provide an opportunity for each and everyone in Maguindanao. He said he would also look into the education system in the province and ensure literacy programs are in place in every town; and also strengthen agriculture and peace efforts in Maguindanao.
"Rest assured all that what we have promised you will not be broken and everything would be transparent because our accountability is to the people," he said.
Mastura thanked all those who are supporting him and his group that he said came all the way from various towns just to listen to their platform of government under the searing heat of the sun.
"I want to thank all the supporters that attended the rally and in spite of the heat of the sun they were all here to watch and listen to us and the promise of the new leaders to bring peace and development in Maguindanao. I am a living witness to the huge support that the people are giving me, us and with Allah's guidance and blessings we shall all prevail," he said. (With a report from Mark Navales)


1,704 total views, 7 views today