Zamboanga curfew eased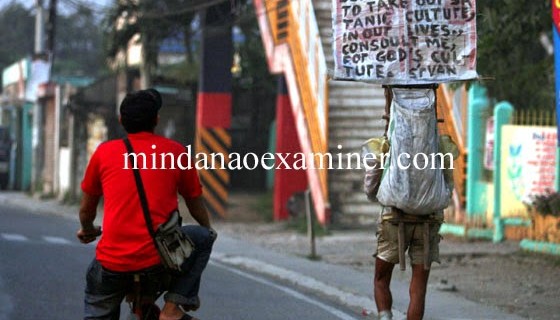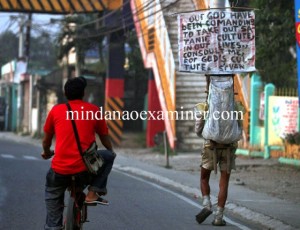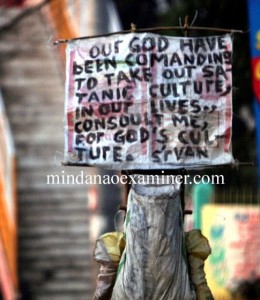 A man walks on a highway carrying a placard with writings about good and bad in Zamboanga City in southern Philippines. (Mindanao Examiner Photo)
ZAMBOANGA CITY (Mindanao Examiner / Sept. 29, 2013) – Philippine authorities have eased the curfew in Zamboanga City, but it remains the same in at least 10 areas where security forces are still clearing villages following three weeks of fighting that killed and wounded over 450 people.
Hundreds of separatists Moro National Liberation Front rebels led by Ustadz Khabir Malik stormed Zamboanga on September 9 and seized about 200 civilians and used them as shield against troops pursuing them.
Mayor Maria Isabelle Salazar imposed new curfew hours – from 10 p.m. to 4 a.m. – in areas outside the conflict zone, but still 8 p.m. to 5 a.m. in Zone 4 in downtown Zamboanga and nearby villages of Santa Barbara, Santa Catalina, Mariki, Rio Hondo, Tugbungan, Talon-Talon, Mampang and Arena Blanco.
Gun ban is also imposed in Zamboanga because of village elections next month.
She said local government offices in City Hall will resume work on Monday. She also encouraged national government agencies, including private establishments and companies outside the conflict zone to open on Monday.
But Salazar said all private wharves in Zamboanga are not allowed to service passengers and that transport of cargoes is regulated.
She also asked police and military authorities to secure vital government installations while a task force is mandated to work on the rehabilitation of areas affected by the violence that forced more than 100,000 people to flee their homes.
More than 270 rebels had surrendered or captured in the fighting, but their leader Uatadz Khabir Malik has not been found and may have escaped the military dragnet. (Mindanao Examiner)
1,302 total views, 5 views today