Missing Malaysian woman found in Southern Philippines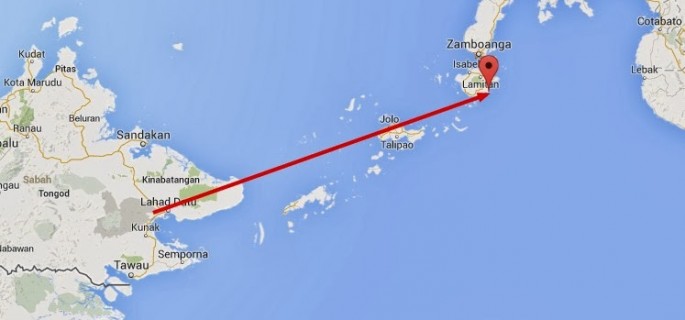 Google map of Al-Barka town in the southern Philippine province of Basilan. (Mindanao Examiner)
DAVAO CITY (Mindanao Examiner / Feb. 28, 2014) – A Malaysian woman, who was reported missing the past two years after running off with a Filipino, has been located in the southern Philippine province of Basilan, the Malaysian news agency Bernama reported.
The Malaysian Ministry of Foreign Affairs and the Malaysian Consulate in Davao City phoned Abdul Ghani Md Yassin to say that her daughter, Siti Nor Shafika, has been found alive in Al-Barka town.
Malaysian officials told the 45-year old Abdul Ghani that his daughter is believed to be in the village of Kuhun Lenuh and that she has written a letter saying that she had married and wanted to continue staying in Basilan.
The woman's father, however, raised doubt about the veracity of the letter, saying, during past phone conversations with his daughter, Siti Nor Shafika, expressed concern over her safety and wanted to go back to Malaysia.
"She said there were frequent shootings and wanted to find a way back to Malaysia," he said.
Bernama said Abdul Ghani doubted the letter as no Malaysian consul officers had actually met the 20-year old Siti Nor Shafika and that the meetings were held with a local group.
"I hope Wisma Putra and the Malaysian Consul in Davao will arrange for a face-to-face meeting with Siti Nor Shafika and bring her home as I am worried of her safety," he said.
Wisma Putra refers to the Malaysian Ministry of Foreign Affairs.
Bernama, quoting unnamed sources, said there are efforts to track down Siti Nor Shafika in Basilan through the Philippine authorities.
There was no immediate statement from either provincial or police officials about the woman, but the  Malaysian news agency last year reported about how Abdul Ghani desperately tried to trace his daughter who ran off to the Philippines in March 2012. (Mindanao Examiner)
1,503 total views, 3 views today