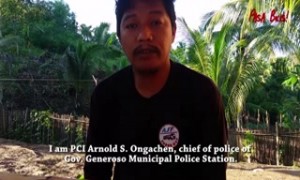 DAVAO CITY – The communist rebel group New People's Army has released Monday a second video clip of a captured police officer who appealed anew to the military to stop all rescue operations for fear of his safety. 
Rigoberto Sanchez, a rebel spokesman, released the video to the regional newspaper Mindanao Examiner, the second since June after capturing Chief Inspector Arnold Ongachen, the municipal police chief of Governor Generoso in Davao Oriental, on May 29 following a daring assault in the province. 
He said the prisoner is currently being investigated by a rebel court for his alleged involvement in the unbridled illegal drug trade in the town after a packet of methamphetamine hydrochloride or crystal meth was seized from him by NPA fighters. 
In the video, Ongachen appealed to the Armed Forces of the Philippines (AFP) to halt all operations to free him from captivity and urged the Duterte government to resume peace talks with the NPA. 
"Ang hiling ko lang po sa AFP ay ihinto na po ninyo ang inyong military operation at bigyang daan natin ang peace talk na matagal nang hinihiling ng mga kababayan natin. Sana po ay pagbigyan natin ang peace talk upang malaman natin at maintindihan kung bakit nakikipaglaban ang mga kapwa natin Pilipino sa ating gobyerno ngayon. Ito po ay matagal ng problema na hindi po naiitindihan ng karamihan sa atin," the bemustached police officer, wearing a black shirt, said in Tagalog. 
It was unknown whether Ongachen was speaking under duress or not, but the frames of the clip were obviously edited several times and put together into a three-minute video. In the clip, Ongachen also said aside from him, the rebels were also holding several people who were taken prisoners for using illegal drugs. 
"Noong unang 5 araw ng aking pagkabihag, napansin ko ay may mga tao na naka-kustodiya sa kanila. Ito po pala ay mga user ng shabu na tinutulungan nilang maka-iwas at malabanan ang pagka-addict sa ipinagbabawal na gamot. Kanila po itong pinapakain at inaalagaan hanggang sa masupil na nila ang pagka-addict sa iligal na droga," Ongachen said, adding, it was also the same reason why the rebels raided the town and arrested him. 
Ongachen said he is being treated well by his captors and added the NPA also have a huge community support, although he did not say where he is being held. 
"Ang mga NPA po ay inaalagaan ako, hindi po nila ako sinasaktan. Simula noong pagkakuha sa akin hanggang ngayon po ay hindi ako nakatikim sa kanila ni pitik sa kamay dahil po sila po ay sumusunod sa Comprehensive Agreement on the Respect for Human Rights and the International Humanitarian Law."
"Noong una po, akala ko po ay sila po ay mga kriminal, pero noong isinama nila ako doon sa lugar kung saan may komunidad, napasin ko na mahal sila ng mga masa at ipinagkakatiwala ng mga tao ang kanilang mga bahay para sa NPA. Palipat-lipat po kami sa mga bahay sa komunidad at lahat po sila ay malaki ang respeto sa NPA," he said. 
Sentence him 
President Rodrigo Duterte earlier appealed to the rebels to immediately free Ongachen, but has given up efforts to secure the safe release of the prisoner after learning from the NPA that rebels confiscated drugs from the officer. 
Duterte, who publicly declared war on illegal drugs, said the fate of Ongachen is now up to the NPA. "You have a kangaroo court. Sentence him to 20 years of hard labor," Duterte said. "I said I'd be harsh (on illegal drugs). I'm sorry for that guy." 
Sanchez said the town have been identified as a gateway of illegal drug trade in the province and that government officials have ignored the existence of the nefarious activities there. He also accused the 28th Infantry Battalion of sabotaging the NPA's planned raid on a laboratory of being run by drug syndicates in the village of Tibanban.  
He also accused politicians and other military and police officials as involved in the nefarious trade and warned that they are now target of the NPA's war on illegal drugs.  
"It is in the class interest of feudal lords, bourgeois compradors and bureaucrat capitalists that illegal drugs should proliferate in the country. The detestable US-Aquino regime has allowed this menace to take root and spread. This is yet another crime that the outgoing reactionary regime and its Oplan Bayanihan have to be held accountable for," he said.  
Oplan Bayanihan refers to the government's anti-insurgency campaign which the NPA said violated the rights of innocent people and resulted in extrajudicial killings in the countryside. 
Sanchez said the release of the clip by the NPA affirmed its continuing campaign against illegal drug syndicates in the country. He said the daring raid on May 29 in Generoso town is a blow against the unholy alliance of reactionaries and armed forces that continues to peddle illegal drugs in the province. 
He said they will strike hard against drug lords and their protectors. "The only solution to this menace is to strike hard against big drug lords and their protectors who have links to international drug syndicates," he said.  
The NPA has been fighting the democratic government for decades now in an effort to put up a communist state in the country.  (Mindanao Examiner)
Like Us on Facebook: https://web.facebook.com/mindanaoexaminer
Follow Us on Twitter: https://twitter.com/MindanaoExamine
Read Our News on: http://www.mindanaoexaminer.com / http://mindanaoexaminernewspaper.blogspot.com/
Share Our News
Digital Archives: issuu.com/mindanaoexaminernewspaper
6,003 total views, 1 views today