Philippines puts up recovery plan for 'Haiyan' ravaged areas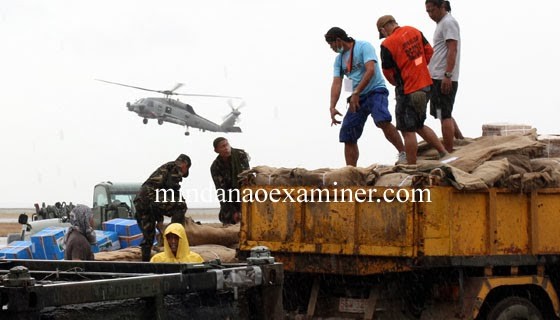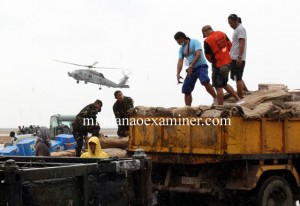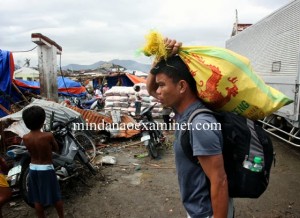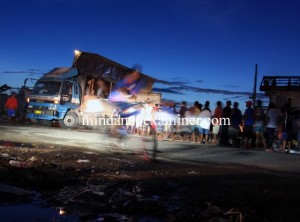 Relief efforts in Tacloban City in the central Philippine province of Leyte. (Mindanao Examiner Photo)
CEBU (Mindanao Examiner / Nov. 30, 2013) – President Benigno Aquino has approved a three-phase plan by the Cabinet for the recovery and rehabilitation of residents affected by super typhoon Haiyan in central Philippines.
Presidential Spokesperson Edwin Lacierda said: "The plan has three phases: to provide immediate assistance to affected areas, expand initiatives and programs in the medium term, and reach full recovery and rehabilitation in the long term."
He said Aquino also instructed the Cabinet to act soonest on what can be done. "Dapat gawin, kayang gawin, ngayon na," he quoted Aquino as saying.
Socio-economic Planning Secretary Arsenio Balisacan presented the Yolanda Recovery and Rehabilitation Plan during the meeting. But Aquino also asked Balisacan and other Cabinet members concerned to give more specific details, Lacierda said.
Lacierda said the Cabinet will again meet with Aquino to present further refinements to the plan, including the immediate actions to be taken.
More hospitals open in Tacloban City
Three weeks after the typhoon ravaged Tacloban City, eight hospitals are now fully operational and are ready to treat various medical conditions.
DOH Assistant Secretary Paulyn Ubial said five hospitals are tertiary level and offers operation services; and three primary level hospitals that would accept outpatients, but do not perform surgery operations.
The five tertiary-level hospitals are Eastern Visayas Medical Center, RTR Medical Center, St. Paul's Hospital, Bethany Hospital and field hospitals of the Australians located near the airport.
The three primary-level hospitals, meanwhile, are the Mother of Mercy Hospital, Tacloban Doctors Hospital and Tacloban City Hospital.
Ubial said for those patients who need major operations with sophisticated facilities, the DOH refers them to the Chinese hospital ship "Peace Ark.
"Now, we don't need to airlift patients to Cebu and Manila if they need major operations," Ubial said.
She noted medical practitioners and specialists from St. Lukes Hospital, Makati Medical Center and DOH hospitals in Manila have volunteered in some hospitals here to render medical aid to typhoon victims.
Tacloban is endemic to dengue. Since January to August, there are 3,000 reported dengue cases in Tacloban but now we have no reported case yet that's why we are wary of it, according to Ubial.
The DOH has 12 fogging machines designed to kill adult mosquitoes. Three machines will be used in Tacloban and nine more in Leyte. It also launched mass vaccination on measles in Tacloban and other parts of Leyte.
Ubial said the DOH medical teams are also ready to visit remote islands to distribute medicines and provide medical aid to typhoon victims.
Guiuan starts to rebuild lives
Residents of Guiuan town are also starting to pick up the pieces weeks after the devastation of Haiyan. The local government is focusing on clearing debris and rehabilitation of damaged houses, according to Sangguniang Bayan Secretary and Operations Center Spokesperson Rectito Melquiades.
Melwuiades said the clearing operations are almost complete. "Several private companies were lending us heavy equipment to clear municipal streets and other areas. We gave priority to the main streets," he said.
He said they no longer have problems in delivering relief goods and reaching all islands in Guiuan as they have cleared all road blocks already.
Citing official report, Melquiades said that the local relief center in Guiuan has served 14,193 families in 60 villages so far.
He said they are trying to limit the distribution of relief goods due to reports of hoarding and they want people particularly fishermen and farmers to go back to work.
"We have sufficient supply of relief goods but we don't want them to just rely on us. They need to go back to work and provide for their families," he said.
The Eastern Samar Electric Cooperative also started repairing toppled electric posts to meet the deadline set by the Energy department to restore power in entire Eastern Visayas by December 24.
As for the bunkhouses, the Department of Public Works and Highways has started to build temporary shelters in five towns and islands in Eastern Samar.
At least 35 bunkhouses will be built in Guiuan, three in Victory Island, three in Campoyong, two in Salug, two in Tubabao and one in Lupok, according to Melquiades.
Several police officers stationed at an outpost in Barangay Mercedes have also started rebuilding their office.
Some district hospitals are also operational as Melquiades assured of sufficient supplies of medicines. Big establishments, however, are not yet operational as looting remains a concern to residents here.
Melquiades said they are expecting business and trade to normalize soon as police forces have already been augmented in the town.
1,424 total views, 5 views today