Typhoon survivors hold interfaith rally in Manila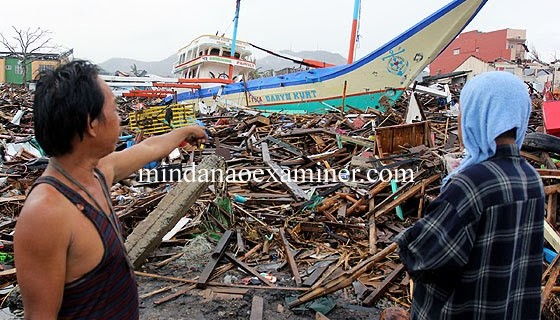 Devastation of typhoon Haiyan in Tacloban City in central Philippine province of Leyte. (Mindanao Examiner Photo)
MANILA (Mindanao Examiner / Nov. 29, 2013) – A Filipino youth group called Anakbayan and Tindog, a network of typhoon Haiyan survivors and their families and supporters, held an interfaith rally on Friday near the Presidential Palace to press the Aquino government to provide immediate relief and rehabilitation support for the people affected by calamity in central Philippines.
"We are dismayed and outraged that many Filipinos are still saying that relief goods still have not reached them. Some say they have been given relief goods only once since the disaster. It has been more than 20 days already and there is no excuse for government regarding this tragedy," said Vencer Crisostomo, national chairperson of Anakbayan.
The groups continued their appeal for support as they also continue the #TulongKabataan relief operations and rehabilitation campaign for the victims of Haiyan.
They also condemned the Department of Trade and Industry for "opportunism" and assailed its "Diskwento Caravan" in Leyte and Samar provinces.
"What they are doing is pure evil. The government could have just bought the goods and distributed them for free instead of profiting from the tragedy of our kababayans. This is just outrageous," Crisostomo said.
They also called for "accountability and justice" and called the government's incompetence and failure to provide immediate relief days after the storm "criminal."
"Aquino and his cabal must be held accountable for criminal neglect and incompetence which have caused the deaths of many of our kababayans. He has proven himself to be a heartless, incompetent and anti-people leader. Haiyan is the strongest storm to hit our nation, but it appears the Aquino government's inaction is the bigger disaster. Aquino is the disaster president," he said.
Crisostomo said the "matuwid thing to do for Aquino at this point, for the sake of the nation and himself, is to stop making excuses and step down."
Tindog network, in a demand letter, called for the hastening of rescue and relief efforts, ensuring the basic needs of the survivors, decent burial for the dead, subsidy for farmer and fisher-folk rehabilitation and compensation for families victimized by the deadly typhoon.
Over 5,000 have died from the devastation of typhoon Haiyan.
1,419 total views, 1 views today