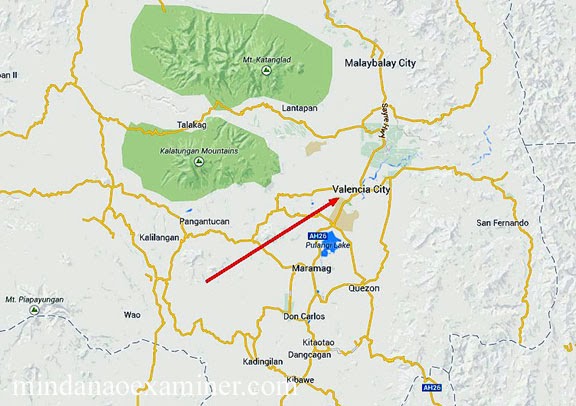 Google Maps of Valencia City in the southern Philippine province of Bukidnon. (Mindanao Examiner)
CAGAYAN DE ORO CITY (Mindanao Examiner / Nov. 29, 2013) – A Filipino radio broadcaster was shot and killed by two motorcycle gunmen late Friday in the southern Philippines, a media watchdog reported.
The National Union of Journalists of the Philippines said Joas Dignos, a block time commentator at dxGT Radyo Abante in Maramag town, was shot in front of the CAP Building along Sayre Highway in Valencia City in Bukidnon province.
The motive of the murder is still unknown, but Dignos had been receiving death threats. In June, the same radio station was also lobbed with a grenade by an unidentified man and the explosion damaged its studio.
Dignos is the 19th members of the media killed under the Aquino administration.
The killing if Dignos came barely days after government spokesman Herminio Coloma insisted there is "no more culture of impunity" in the country.
Coloma's statement was challenged and even criticized by various media groups. The Freedom Fund for Filipino Journalists (FFFJ) said Coloma was reacting to allegations that the Aquino administration has pulled ahead of past administrations because of the number of journalists killed during the first three years of Aquino's watch.
"When they're killed in the course of their work or for their work, it has an impact on the state of the press and media because the killings serve as a deterrent against other journalists' doing their jobs without fear," FFFJ said.
"Impunity is the name for the fact that only one gunman and no mastermind has been tried or even arrested in 18 out of the 19 killings of journalists from 2010 to 2013, and for the continuing harassment many journalists have to contend with in the course of their work." (Mindanao Examiner)
2,384 total views, 2 views today