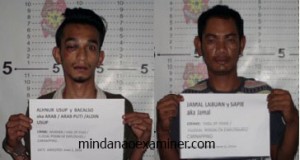 ZAMBOANGA CITY – Police forces captured two Abu Sayyaf rebels following a motorcycle chase before dawn Thursday in Zamboanga City in southern Philippines.
Superintendent Rogelio Alabata, a regional police spokesman, said Alhnur Usup and Jamal Labuan were cornered along Governor Camins Road. He said policemen also seized a fragmentation grenade and illegal drugs from the motorcycle's utility box.
He said the men are followers of Abu Sayyaf leader Indang Susukan in Sulu province and that Usup is wanted by authorities for his involvement in many murder cases.
It was unknown if Usup – who lives in Talon-Talon village here and Labuan, a resident of Taluksangay village, also in Zamboanga – were planning to kidnap or launch terror attacks in the largely Christian city.
Alabata said policemen were trying to serve arrest warrants on the duo, but they managed escape on a motorcycle, forcing lawmen to chase them and eventually captured in one of Zamboanga's red light district.
Mayor Beng Climaco lauded the police for the arrest of the rebels. (Mindanao Examiner)
Share Our News
Like Us on Facebook: https://web.facebook.com/mindanaoexaminer
Follow Us on Twitter: https://twitter.com/MindanaoExamine
Read Our News on: http://www.mindanaoexaminer.com / http://mindanaoexaminernewspaper.blogspot.com/
Digital Archives: https://issuu.com/mindanaoexaminernewspaper
8,930 total views, 1 views today