COTABATO CITY – Security forces captured 5 suspected pro-ISIS militants, but two of their leaders manage to elude arrest and escaped during a dramatic raid by troops on a terrorist hideout in southern Philippines.
Officials said soldiers and police commandos carefully snaked their way through thick bushes under cover of darkness undetected by militants and surprised them, and capturing 5 men before dawn Saturday in Pagalad village in Maguindanao's Paglat town.
Two notorious and elusive militant leaders Ustadz Yasser Saligan and Sheik Makakena alias Abu Jihad escaped the daring raid by the 33rd Infantry Battalion and 4th Special Action Force of the regional police force.
"The raiding teams collared five persons who were caught off-guard by the presence of heavily armed soldiers and SAF commandos. The troops seized four anti-personnel mines and three pistols. Two of the primary suspects, Abu Jihad and Ustadz Yasser, eluded arrest by jumping into the murky water of the Liguasan Marsh upon sensing the presence of government troops," a statement from the 6th Infantry Division said Sunday.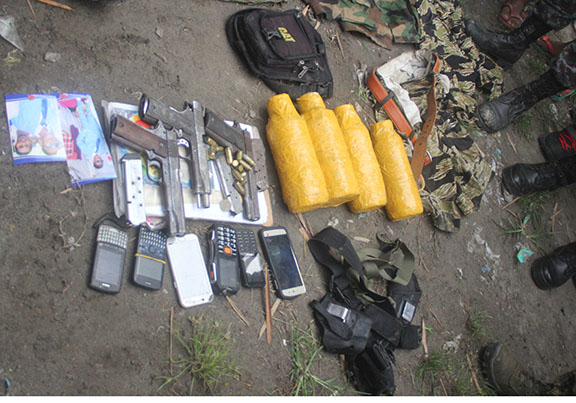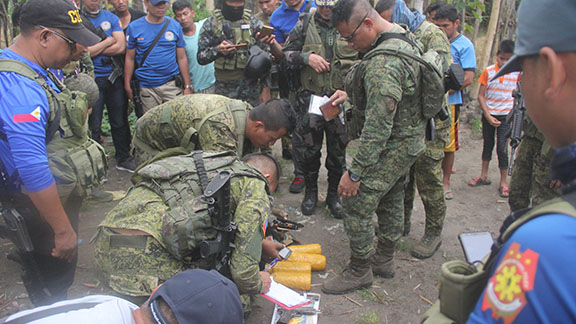 Lt. Col. Harold Cabunoc, commander of the 33rd Infantry Battalion, who led the raid, said they have intelligence the militants were planning to bomb civilian targets in Sultan Kudarat province after an informant passed on photos of the militants blowing an improvised explosives to test whether they were lethal or deadly enough to kill as many people as they could.
After locating the terrorist hideout, Cabunoc launched the operation to capture the militants. "Our informant showed us the pictures of terrorist bombers Ustadz Yasser Saligan and his cohort, Sheik Makakena as they detonated a bomb to test its lethality. We had been tracking them since November 2018," he said.
Troops were still tracking down the two militants leaders while those captured are being interrogated separately at an undisclosed locations in the restive region.
Cabunoc said 5 militants belonging to the Bangsamoro Islamic Freedom Fighters headed by Mayogantong Bansil also surrendered over the weekend in General Salipada Pendatun town and handed over their weapons.
Several pro-ISIS groups are operating in the region and fighting for the establishment of a caliphate in Mindanao, which was previously under the Muslim rule. (With a report from Rhoderick Benez.)
Like Us on Facebook: https://www.facebook.com/mindanaoexaminer
Follow Us on Twitter: https://twitter.com/MindanaoExamine
Read And Share Our News: https://www.mindanaoexaminer.com 
Mirror Site:  https://mindanaoexaminernewspaper.blogspot.com
Digital Archives: https://issuu.com/mindanaoexaminernewspaper
See Media Rates: https://mindanaoexaminer.com/ad-rates
2,602 total views, 1 views today