ZAMBOANGA CITY – Security forces have allegedly rescued 6 members of a farming family kidnapped in Zamboanga del Norte's Sirawai town and were all handed over Thursday to the municipal mayor, a military spokesman said.
Lt. Col. Gerry Besana, of the Western Mindanao Command, said the victims were rescued by soldiers and policemen before midnight Wednesday in the village of Gata in Talipao town in Sulu province.
"The rescue operations, in support to the law enforcement operations of the Philippine National Police, was successfully undertaken by the combined elements of the Marine Battalion Landing Team 3 led by Lieutenant Colonel Ramil Holgado, under the Joint Task Force Sulu led by Brigadier General Devino Rey Pabayo, with support from the intelligence operatives of the Philippine Navy," he said without further elaborating.
Besana did not say if any of the kidnappers had been arrested or if security forces clashed with the captors, or if the victims were freed and fetched by troops in Sulu.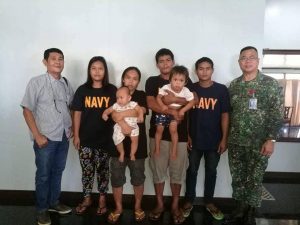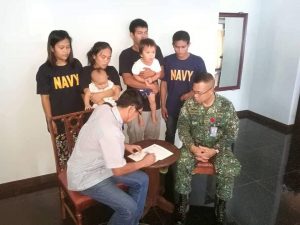 Military photos show the freed kidnapped victims.
Gunmen kidnapped Feliciano Javier, 28; his wife Elsa, 28, and their five-month old baby Vincent; and Junior Javier, 22, and wife Rica, also 22-years old and their five-year old son Val, on June 28. The couples are all keepers of farm owned by Valiente Felizarta, the municipal engineer of Sirawai.
The kidnappers originally demanded P400,000 for the safe release of the hostages. Police have tagged Jamilon Tukalan as the leader of the kidnappers, but the Western Mindanao Command said the gang is headed by Jamilo Wahab. It was unclear whether Tukalan and Wahab is the same man or if he is a leader of the Abu Sayyaf or allied with the notorious group.
The town's deputy mayor, Jaime Felizarta, told police investigators that a man, who identified himself as "Abu" demanded the ransoms. (Mindanao Examiner)
Like Us on Facebook: https://www.facebook.com/mindanaoexaminer
Follow Us on Twitter: https://twitter.com/MindanaoExamine
Read And Share Our News: https://www.mindanaoexaminer.com/
http://mindanaoexaminernewspaper.blogspot.com/
Digital Archives: https://issuu.com/mindanaoexaminernewspaper
See Media Rates: https://mindanaoexaminer.com/ad-rates/
5,293 total views, 1 views today