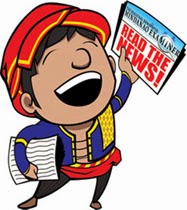 COTABATO CITY (Mindanao Examiner / June 7, 2014) – A kidnapped Filipina resort worker freed by the Abu Sayyaf along with a Chinese tourist has returned to her hometown in the southern Philippines after being detained and interrogated by Malaysian authorities on suspicion she was involved in the crime.
Marcy Dayawan, 40, was reunited with her family in North Cotabato's Midsayap town and told local media her ordeal. Dayawan and Gao Huayun, 29, were both freed by the Abu Sayyaf on May 30 in Sulu province where they were taken by Abu Sayyaf militants. The duo was kidnapped on April 2 from the Singamata Adventures and Reef Resort in the town of Semporna in Sabah where Dayawan works.
The kidnappers originally demanded RM36.4 million ransom or equivalent to almost P500 million for the safe release of the Chinese woman. Sources told the regional newspaper Mindanao Examiner in Sulu that a leader of the Moro National Liberation Front, Nameh Sangkula, helped negotiate the release of the hostages in the village of Bawisan in Parang town. It was unknown who tapped Sangkula to secure the freedom of the hostages.
Then victims were fetched by security forces and handed over to Malaysian officials who were in Jolo town. The freed victims were then whisked to a waiting speedboat that brought them to Sabah.
According to the Philippine News Agency, Dayawan, who spoke English, had served as translator between the kidnappers and the Chinese woman. Dayawan also said that she acted as "personal assistant" to Huayun.
In an interview with the Catholic-run radio station dxMS, Dayawan said: "We travelled by a speed boat from Sabah to Sulu during which I told them that I was not Gao's helper as they thought me to be thus they abducted me too. They kept on telling us that all they need was money from Gao's family."
The report also quoted Dayawan as saying that the kidnappers demanded P500 million ransom from Huayun's family. "I was not sure if ransom was paid but we were repeatedly told by Malaysian authorities that no ransom was paid," she said.
Dayawan said they were guarded by about 70 gunmen whose leader has been identified as Alhabsi Misaya, who was also being called "maas" and that they were not abused. "They did not harm us, they respected us as women," she said.
PNA said the kidnappers fed the two women with fried chicken and rice and even bought foods for the Chinese when she celebrated her birthday on April 8. "We were always fed with fried chicken and other special food the kidnappers bought somewhere in the downtown," Dayawan was quoted by the report.
Dayawan also admitted that she entered Sabah illegally to work 13 years ago, according to PNA.
Malaysian police released Dayawan to the Philippine Embassy in Kuala Lumpur on June 1 after being interrogated against her will. The Kuala Lumpur-based news website The Rakyat Post reported that the Royal Malaysia Police detained Dayawan shortly after she arrived in Sabah.
The report quoted Sabah Police Commissioner Datuk Hamza Taib as saying that Dayawan is being interrogated in by the Royal Malaysia Police in Kuala Lumpur in connection to the investigation into the kidnappings. "We will detain her further until we are satisfied and confident that she is not involved in the kidnapping incident," he said.
The police commissioner said Dayawan was an illegal worker and had entered Sabah illegally. He said the Filipina was employed by resort just two months before the kidnappings. "And if Marcy, who had entered Sabah illegally, is proven to be clean, she will be deported to her country of origin," he said.
But the Philippine Embassy, quoting Malaysian authorities, said Dayawan was not considered a suspect in the kidnapping.
"During the hand-over, Malaysian police authorities told Embassy officials that they did not consider her as an accomplice to the kidnapping plot and had cleared her of speculations. Ms. Dayawan said that she was given the choice to remain in the Philippines after her rescue, but she decided to return to Malaysia partly to clear her name," it said in a statement sent to the Mindanao Examiner.
The Philippine Embassy expressed alarmed over the spate of cross-border kidnappings perpetrated by criminal elements from Mindanao, saying this has detrimental impact on Filipinos residing in Sabah.
"We wish that these groups desist from conducting such criminal activities, as many of the affected people in Mindanao and Sabah share a common heritage and have close affinity and blood ties. Carrying out or tolerating these criminal actions is a disservice to one's country, fellowmen and kin," it said.
Malaysian authorities also said gunmen snatched May 6 a Chinese fish farm manager in Lahad Datu town in Sabah and clashed briefly with pursuing patrol before disappearing into the southern Philippines. At least 5 armed men on a speedboat intruded into the Wonderful Terrace and seized the 34-year Yang Zai Lin after he came out to check the commotion at the farm.
The latest abduction has forced Sabah authorities to declare curfew and travel restrictions in several areas there.
In November last year, the al-Qaeda linked Abu Sayyaf group kidnapped a Taiwanese tourist Chang An Wei, 58, after killing her husband Hsu Li Min, 57, in a daring cross-border raid in Sabah's Pom Pom Island. The woman was eventually released a month later near the village of Liban in Talipao town in Sulu after paying ransom. The Abu Sayyaf has resorted to ransom kidnappings to raise money for the purchase of weapons and to fund terror attacks in the country. (With reports from Mark Navales and J. Magtanggol)
1,481 total views, 1 views today