DAVAO CITY – Communist rebels strafed a low-flying agricultural plane and fatally wounded its pilot in Surigao del Sur province in southern Philippines.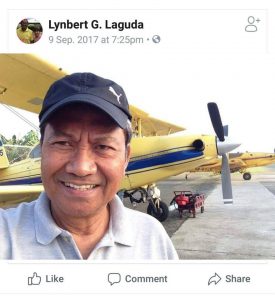 Despite his wound, Captain Lynbert Laguda Sr managed to safely land his aircraft and rushed to the hospital, but eventually died due to loss of blood from a gunshot wound he sustained in the body.
Laguda, a seasoned pilot from Dana Farms Aviation Inc. based in Davao City, was spraying fertilizer on a farm in Tagbina town over the weekend when the attack occurred.
He was flying a single-engine biplane Grumman G-164 Ag Cat agricultural aircraft and a member of the Agricultural Aviator Association of the Philippines. The plane bore 3 bullet holes – on the fuselage near the cockpit, wings and on the nose near the engine of Laguda's aircraft.
The New People's Army rebels have previously threatened to attack agricultural aircrafts in the restive region where the communist group had been extorting money from aviation firms.
Laguda's son, Lynbert II, – also an agricultural pilot – has asked Presidential son Paolo Duterte to bring the matter to the attention of President Rodrigo Duterte. "Vice (Mayor Paolo Duterte), please help me, kindly tell the President what happened to my daddy, please," he said in an exchange of messages between him and the young Duterte, former mayor of Davao City, who was angered by the rebel attack and condoled with Laguda's family.
Duterte said he would inform his father about the tragedy. There was no immediate reaction from the NPA on the killing of the innocent pilot. The rebel group has been fighting for a separate Maoist state in the country for many decades now. (Mindanao Examiner)
Like Us on Facebook: https://www.facebook.com/mindanaoexaminer
Follow Us on Twitter: https://twitter.com/MindanaoExamine
Read Our News on: https://www.mindanaoexaminer.com and  https://mindanaoexaminernewspaper.blogspot.com/
Share Our News
Digital Archives: issuu.com/mindanaoexaminernewspaper
6,778 total views, 1 views today