ZAMBOANGA CITY – Local legislators have passed a resolution placing Zamboanga City in a state of calamity following the shortage of rice supply here that resulted in high prices of grains in the market.
The City Agriculturist Office also started monitoring rice prices in different areas here to ensure traders follow the suggested retail pricing of grains and prevent hoarding.
The lack of ample supply of rice was largely blamed by traders to the National Food Authority (NFA) for failing to deliver cheap rice to the market. But just this week, the NFA said it has started releasing thousands of bags of rice and has delivered 10,000 bags in Sulu province.
Sulu's rice stocks had been depleted the past weeks after the provincial government purchased over 5,000 bags of rice to feed thousands of people displaced by a huge fire in Jolo town.
The same also occurred in the cities of Lamitan and Zamboanga following the burning of many houses that displaced thousands of people who relied heavily on rice donations.
The supply of rice from nearby Malaysia – which helps stabilized the prices of commercial rice in Zamboanga, Tawi-Tawi, Basilan and Sulu – also declined due to a strict government campaign against "traditional" barter trading in the area. A bag of 25-kilo rice from Malaysia only sells as P650 while commercial rice retails as P1,200 a bag of 25 kilos.
However, despite the government campaign, traders still managed to sneak nearly 7,000 bags of sugar in Tawi-Tawi and Basilan only to be seized by the Coast Guard. The cargoes came from Malaysia and had no pertinent importation permits.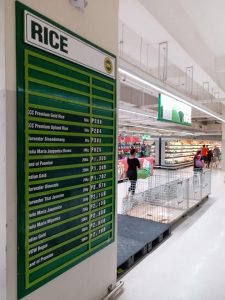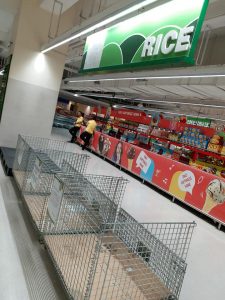 Even KCC Supermarket, the biggest in Zamboanga City, has no rice stocks.
(Mindanao Examiner Photo)
KCC Supermarket, the biggest in Zamboanga City, have no stocks of rice; while small traders sell rice way above its suggested retail price and higher by at least 20%. The most affected by the rice shortage is the poor as middle class can still manage afford the high prices of grains in Zamboanga.
Agriculture Secretary Manny Piñol, quoting rice industry stakeholders, said the unusually high prices of rice in the market will taper off and stabilize in the 4th Quarter when farmers start to harvest their last cropping for the year, and rice stocks imported by private sector have been completely brought in by the end of September.
According to Piñol, NFA Administrator Jason Aquino said that the first shipment of 250,000 metric tons of NFA rice has already arrived in the country and the next 250,000 metric tons would start arriving soon. Rice from Vietnam, Thailand and Pakistan imported by traders has also arrived. (Mindanao Examiner)
Like Us on Facebook: https://www.facebook.com/mindanaoexaminer
Follow Us on Twitter: https://twitter.com/MindanaoExamine
Read And Share Our News: https://www.mindanaoexaminer.com/
http://mindanaoexaminernewspaper.blogspot.com/
Digital Archives: https://issuu.com/mindanaoexaminernewspaper
See Media Rates: https://mindanaoexaminer.com/ad-rates/
3,847 total views, 1 views today