SULU – Philippine police say a Dutch hostage of the Abu Sayyaf has joined the notorious pro-ISIS terrorist group 7 years after he and Swiss wildlife photagrapher were captured in the southern province of Tawi-Tawi.
In February 2012, Abu Sayyaf militants under Hajan Sawadjaan and suspected Moro National Liberation Front members kidnapped  Lorenzo Vinciguerra, from Switzerland; and Ewold Horn, 54, from Holland, in the coastal village of Parangan in Panglima Sugala town in Tawi-Tawi.
Vinciguerra had escaped from his guards and recovered by soldiers in December 2014 after he allegedly killed one of his guards – Juhurim Hussien – with a bolo.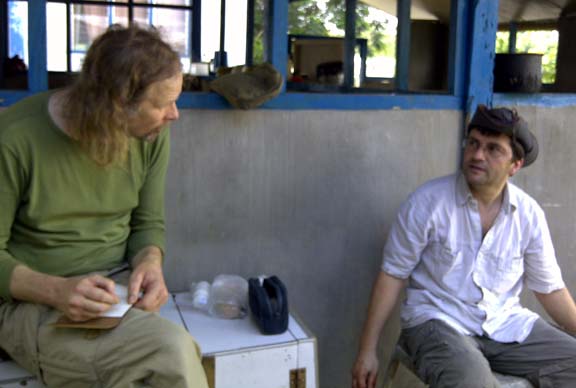 Horn, according to Sulu police commander Pablo Labra, has developed Stockholm syndrome, a condition which causes hostages to develop a psychological alliance with their captors as a survival strategy during captivity. "We received information that he has developed Stockholm syndrome and has been spotted carrying a weapon," Labra told The Zamboanga Post.
It was not immediately known whether Horn had fought security forces side by side with the Abu Sayyaf. "We really don't know if he had fought troops, but if he engages security forces and the lives of our troops are put in grave danger then we have no other recourse but to fight back," he said.
Labra said police forces continue to search for Horn and other foreign captives and at the same time maintain the operation against the Abu Sayyaf. "The operation against the Abu Sayyaf is continuing," he said.
Philippine authorities blamed the Abu Sayyaf and ISIS in the twin suicide bombings of a Catholic cathedral in Sulu's capital town of Jolo early this year. The attacks, carried out by an Indonesian couple, had killed and injured dozens of people, mostly soldiers guarding the Cathedral of Our Lady of Mount Carmel on January 27.
The bombings on the church occurred 2 years after hundreds of Abu Sayyaf and pro-ISIS militants and civilian supporters took over Marawi City in Lanao del Sur province. The city was recovered by troops after 5 months of house-to-house and close-quarter battle that killed and wounded hundreds of soldiers, militants and innocent civilians trapped in Marawi
President Rodrigo Duterte also recently warned foreigners to stay out of Zamboanga following intelligence report that ISIS and Abu Sayyaf militants are targeting foreign nationals. "There's a certain place which I would not recommend to anybody to go there, not just as yet, is Zamboanga. Some Europeans go there for the bird watching and they are captured and eventually they are decapitated even after the payment of ransom. It is the ISIS actually. It used to be the Abu Sayyaf. Now it's an Abu Sayyaf territory. They do nothing but to kill and destroy," he said, but Duterte may have confused Zamboanga to Tawi-Tawi when he said that some Europeans birdwatchers were kidnapped there. (The Zamboanga Post)
Like Us on Facebook: https://www.facebook.com/mindanaoexaminer
Follow Us on Twitter: https://twitter.com/MindanaoExamine
Read And Share Our News: https://www.mindanaoexaminer.com
Mirror Site: https://mindanaoexaminernewspaper.blogspot.com
Digital Archives: https://issuu.com/mindanaoexaminernewspaper
Media Rates: https://mindanaoexaminer.com/ad-rates
Thank you so much for visiting our website. Your small donation will ensure the continued operation of the Mindanao Examiner Regional Newspaper. Thank you again for supporting us. BPI: 952 5815649 (BOPIPHMM) Landbank: 195 113 9935 (TLBPPHMM)
7,808 total views, 1 views today