KIDAPAWAN CITY – The Islamic State on Wednesday claimed responsibility for the deadly motorcycle bombing in the southern Filipino town of Isulan in Sultan Kudarat province.
The powerful explosion had killed at least 2 persons and left nearly three dozen people wounded. SITE Intelligence also reported that IS' East Asia Province claimed bombing Filipino soldiers in Isulan.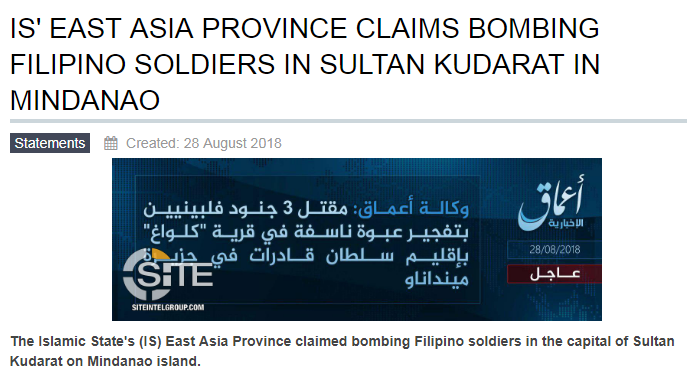 The blast Tuesday evening coincided with the town's 61st founding anniversary and occurred while the whole region is under martial rule.  The motorcycle was parked along the highway near several shops in Kalawag village when it exploded around 8.30 p.m. and two other improvised explosives were recovered not far from the area.
At least 35 people wounded in the blast were rushed to hospitals. And an adult and child died from the bombing.
The Bangsamoro Islamic Freedom Fighters or BIFF whose leaders have pledged allegiance to the Islamic State also claimed responsibility for the daring attack. The BIFF, whose members were mostly former Moro Islamic Liberation Front fighters, is one of several pro-IS militant groups fighting for the establishment of a caliphate on Mindanao.
Security forces have been fighting militant groups in the southern region the past years. The blast occurred following President Rodrigo Duterte's order to the armed forces to crush terrorism.
Just last month, a Moroccan ISIS soldier Abu Katheer al Maghribi, exploded his van filled with explosives in Lamitan City in the volatile Muslim province of Basilan, several nautical miles south of Zamboanga.  The Islamic State claimed responsibility for the July 31 suicide attack that left over a dozen casualties.
In a post on its Amaq News Agency, the Islamic State said a Moroccan man carried out the daring assault against Filipino soldiers and identified the executor of the suicide bombing as Abu Katheer al Maghribi. "A martyrdom attack leads to 15 Filipino soldiers being killed in the city of Lamitan on the island of Basilan in the southern Philippines," it said.
Philippine authorities said 12 people were killed when a car bomb exploded at a security checkpoint after government militias stopped the suspicious vehicle in Bulanting village, about 2 kilometers away from downtown Lamitan. The province is also a known stronghold of the militant group Abu Sayyaf whose leaders also pledged allegiance to the Islamic State.
Several foreign fighters had been killed in clashes with soldiers in Basilan in recent years. The military earlier urged the public to be on alert and stay vigilant at all times following attempts by pro-ISIS militants to bomb civilian targets in the restive southern region. (Mindanao Examiner)
Like Us on Facebook: https://www.facebook.com/mindanaoexaminer
Follow Us on Twitter: https://twitter.com/MindanaoExamine
Read And Share Our News: https://www.mindanaoexaminer.com/
http://mindanaoexaminernewspaper.blogspot.com/
Digital Archives: https://issuu.com/mindanaoexaminernewspaper
See Media Rates: https://mindanaoexaminer.com/ad-rates/
5,840 total views, 2 views today