PAGADIAN CITY – Two persons were killed and 7 others injured when a wayward truck plowed into 6 vehicles outside a public market in the southern Philippine province of Zamboanga del Sur, police said Wednesday. 
Police said the truck's break system malfunctioned and the driver lost control of the vehicle loaded with a cargo of fresh fish and hitting two cars, three other trucks and a motorcycle and left at least 8 casualties. The mishap occurred Tuesday in the village called Paglaun in Dumalinao town.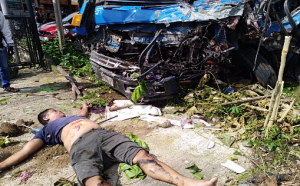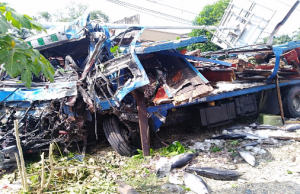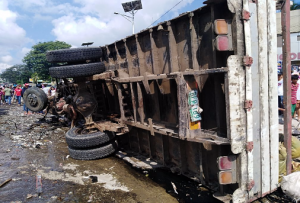 Chief Inspector Helen Galvez, a regional police spokeswoman, said authorities were investigating the accident. She identified the dead as Ariel Napalcruz, 31, the driver of the wayward truck owned by Jordan Fishing Company in Zamboanga City; and Mario Balabag, 51, also a driver of one of the trucks hit by Napalcruz. 
Galvez identified the injured as Cpl. Fedilo Tabotabo, Ronie Asilo, 40; Esterlita Asilo, 66; Simplicio Noval Sr., 49; Juldan Aiyadi, 21; Liezel Pepito, 24; and Milky Magsayo, 26. 
"Initial investigation revealed that the truck driver lost control of the wheel after its brake system malfunctioned. It went out of control travelling at high speed and hit other vehicles," she said. 
Police investigator PO3 Keene James Jayme said Wednesday that Napalcruz's company has settled the damages that resulted from the deadly accident. "The Jordan Fishing has agreed today to settle everything," he told the Mindanao Examiner regional newspaper by phone from Dumalinao town. 
There was no immediate statement from the fishing company. (Mindanao Examiner)
3,883 total views, 2 views today