SULU – Abu Sayyaf militants have freed the daughter of a former Sulu mayor and his ex-wife they kidnapped in the Muslim province after a group of armed vigilantes seized the wives of their leader and threatened to execute them.
The militant group tied to the Islamic State quickly released Eddilyn Tulawie, 27; and her 57-year old mother, Addang, on Wednesday evening near Talipao town where the Abu Sayyaf abducted them in their house before dawn.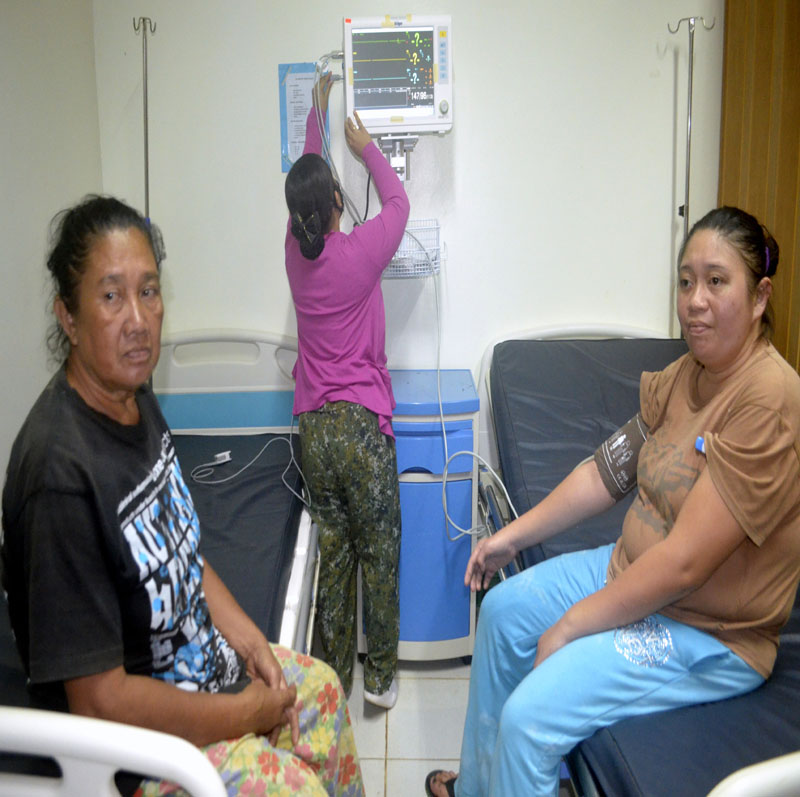 A photo released by the military's Western Mindanao Command on Thursday shows freed Abu Sayyaf hostages  Eddilyn Tulawie, 27; and her 57-year old mother, Addang, in Sulu province. 
Eddilyn's father, Tambrin Tulawie, was the town's former mayor, whose son Nezar is the incumbent mayor.
The vigilantes, mostly villagers, armed themselves and hunted down 3 wives of Abu Sayyaf leader Hatib Hajan Sawadjaan, who was behind the abductions, and took them captive to force the militants to free their hostages.
The Abu Sayyaf released the victims safely after vigilantes – fed up with Abu Sayyaf atrocities in Sulu – threatened to behead one by one Sawadjaan's wives. The militant group is still holding nearly a dozen hostages, mostly foreign sailors it kidnapped at sea off Tawi-Tawi and Basilan provinces in recent years.
There was no immediate statement from the mayor or other officials on the recovery of the hostages by the vigilantes. But the military's Western Mindanao Command claimed the duo was rescued following an "intensified operation" by soldiers, policemen and civilians.
"The intensified operations launched by combined troops of the Joint Task Force Sulu, BPATS (Barangay Police Action Team), and the Talipao Police led to the immediate release of the two kidnap victims," it said.
It said the hostages were abandoned by their captors and "rescued" at a forested area near Kagay village in Talipao. "While scouring the area, the operating troops were able to rescue the two hostages in the forested area and were immediately brought to the residence of former Talipao Mayor Tambrin Tulawie," the military said. "It is the peoples' participation and their resolve against the kidnappers that forced the bandits to abandon the victims in the area where they kept them for several hours." (Mindanao Examiner)
Like Us on Facebook: https://www.facebook.com/mindanaoexaminer
Follow Us on Twitter: https://twitter.com/MindanaoExamine
Read Our News on: https://www.mindanaoexaminer.com/
Our Blog: https://mindanaoexaminernewspaper.blogspot.com/
Digital Archives: https://issuu.com/mindanaoexaminernewspaper
See media rates: https://mindanaoexaminer.com/ad-rates/
4,206 total views, 1 views today