ZAMBOANGA CITY – Security forces are battling two brutal pro-ISIS groups in southern Philippines as government offensives continue Sunday in the restive region.
Over 2 dozen soldiers had been killed and wounded in fighting Abu Sayyaf militants over the past days following two suicide bombings on January 27 of a cathedral in Jolo town in Sulu province being claimed by ISIS.
Five soldiers had been confirmed dead and nearly two dozen more injured in clashes with over 100 Abu Sayyaf fighters in Patikul town. The fighting triggered an exodus of civilians in villages there.
There had been no reports of civilian casualties, but the Joint Task Force Sulu said they have received intelligence reports that a foreign militant, who goes by his nom de guerre Abu Black, was killed in the fighting, but his nationality remains unknown. Another Abu Sayyaf commander, Idang Susukan, was also wounded in the clashes and lost his finger, the report added.
The regional military headquarters, Western Mindanao Command, did not release any information to journalists about the campaign against the Abu Sayyaf. But on Sunday, sealed caskets of slain soldiers from Sulu were spotted being transported by the army to the Philippine Air Force base in Zamboanga.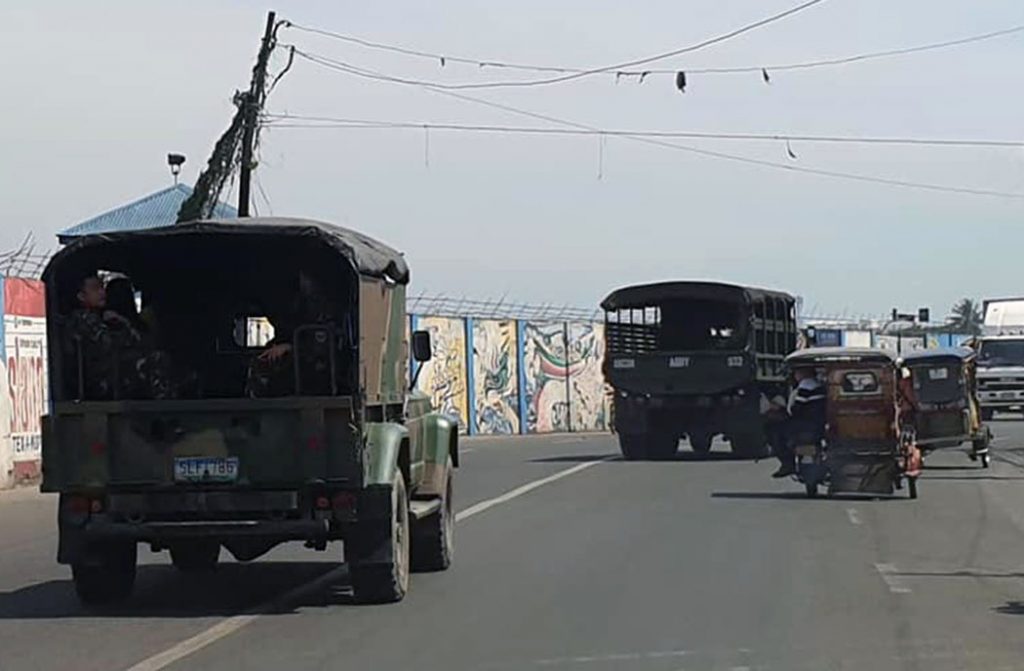 On the main island of Mindanao, troops are also fighting a notorious militant group called Bangsamoro Islamic Freedom Fighters or BIFF, whose members were mostly former rebels from the larger Moro Islamic Liberation Front, according to Major General Cirilito Sobejana, commander of the 6th Infantry Division, and the Joint Task Force Central (Mindanao) or JTFC.
He said troops managed to destroy a several bunkers and fox holes during an offensive that began February 2 in the village of Tugal in Sultan sa Barongis town in the troubled province of Maguindanao.
The military operation involved air and ground forces, backed by a battery of canons, against the BIFF under Salahudin Hassan. Sobejana called Hassan's faction as a "DAESH-inspired terrorist group," an acronym of ISIS' Arabin name al-Dawlah al-Islamīyah fī l-ʻIrāq wa-sh-Shām.
"JTFC launched surgical air, artillery and ground operation to the identified and confirmed targets against the DAESH-inspired terrorist group under Salahudin Hassan. Initial result of the operation is the destruction of suspected 20-capacity bunkers and foxholes of the DAESH Inspired terrorist groups," Sobejana said.
He said the offensive was launched after former BIFF members, who surrendered to the military, provided intelligence on the location of the rebel camp. "The successful operation is a result of positive information and support provided by the former members of BIFF who surrendered to JTF Central," Sobejana said.
There were no reports of military and BIFF casualties in Maguindanao. The offensives were ordered by President Rodrigo Duterte following the cathedral bombings by an Indonesian couple that killed 22 people and left over 100 others wounded. (Mindanao Examiner)
Like Us on Facebook: https://www.facebook.com/mindanaoexaminer
Follow Us on Twitter: https://twitter.com/MindanaoExamine
Read And Share Our News: https://www.mindanaoexaminer.com 
Mirror Site:  https://mindanaoexaminernewspaper.blogspot.com
Digital Archives: https://issuu.com/mindanaoexaminernewspaper
See Media Rates: https://mindanaoexaminer.com/ad-rates
7,727 total views, 1 views today