COTABATO CITY – Two persons were reported killed and 3 others wounded in a firefight Tuesday between government soldiers and local militants allied with the Islamic State in southern Philippines.
The fighting broke out in Olandang village in North Cotabato's Midsayap town where troops raided an alleged hideout of the Bangsamoro Islamic Freedom Fighters, blamed by the military as behind the spate of attacks against security forces in the troubled region.
Target of the military operation was BIFF leader Mando Mamalumpong. Villagers said those killed in the fighting were allegedly civilians caught in the crossfire.
Soldiers recovered an M16 automatic rifle, ammunition, two grenades and improvised explosive, including military uniform and a binocular, in the area where the gun fight occurred. One soldier was reported dead from the fighting.
The military recently launched an offensive in Liguasan marsh in the neighboring province of Maguindanao and insisted to have killed 15 militants, but soldiers did not recover any single cadaver of BIFF.
It said the strike also destroyed an alleged weapons' factory of the BIFF, but this could not be independently confirmed, although the military said a Muslim couple, who are allegedly BIFF members, had been captured by soldiers.
The weekend operation, which occurred during the Muslim holy month of Ramdan, was ordered by Brigadier General Cirilito Sobejana, commander of the 6th Infantry Division. The offensive forced thousands of villagers to flee their homes for fear they would be caught in the crossfire.
The provincial governor, Esmael Mangudadatu, a staunch supporter of the military, did not release any statement on the violence in Maguindanao. The military assault also forced the Department of Education to suspend classes in four towns in the province.
Regional Education Secretary Rasol Mitmug said they continue to monitor the situation of students and teachers in General Salipada Pendatun, Pagalungan, Rajah Buayan and Montawal. He said over 1500 students and 754 teachers – both in elementary and high schools – were affected by the violence.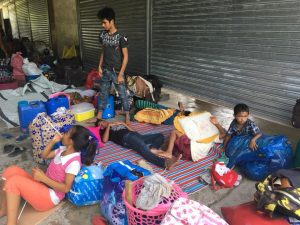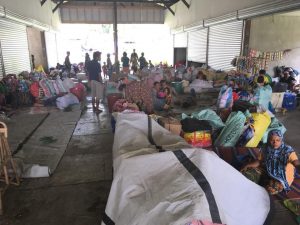 Photo from the Department of Social Welfare and Development in the Muslim autonomous region shows civilians displaced by military operations against the Bangsamoro Islamic Freedom Fighters allied with the Islamic State in southern Philippines.
Governor Mujiv Hataman, of the Muslim autonomous region, has ordered social workers and emergency groups to deliver food aid to war evacuees now in different shelters in the restive province. (Mindanao Examiner)
Like Us on Facebook: https://www.facebook.com/mindanaoexaminer
Follow Us on Twitter: https://twitter.com/MindanaoExamine
Read Our News on: https://www.mindanaoexaminer.com/
Our Blog: https://mindanaoexaminernewspaper.blogspot.com/
Digital Archives: https://issuu.com/mindanaoexaminernewspaper
See media rates: https://mindanaoexaminer.com/ad-rates/
4,146 total views, 2 views today