ZAMBOANGA CITY – The National Food Authority has started releasing rice stocks to retailers in Zamboanga City in southern Philippines, but traders are limiting the sale of Vietnam rice to 3 kilos per person until supply normalizes.
"We are only allowed to buy three kilos of rice a day because traders say the stocks they are getting from NFA are limited," said Lucia Gallo, a 39-year old mother of 5, who was among dozens of people lining up in the market to buy rice imported by the government from Vietnam.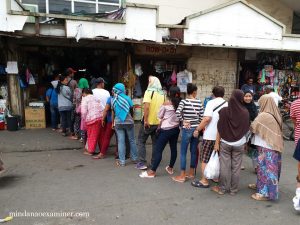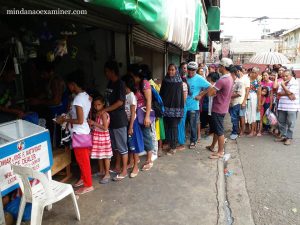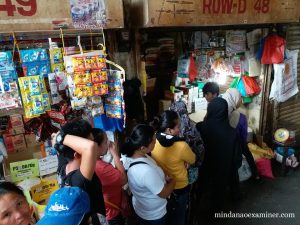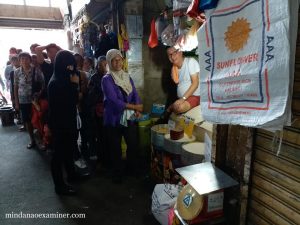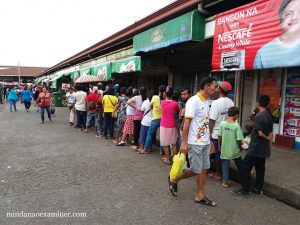 One rice trader said they were only given about 20 bags of 50-kilo rice and sells them at P32 a kilo per person a day. "Once we sell everything, we need to get fresh stocks again from NFA. And this is also the reason why we limit the selling of rice to only three kilos per person a day so everybody maybe avail of the cheap rice," he said.
Local legislators passed a resolution recently placing the city under state of calamity due to the shortage of rice supply. Even supermarkets have run out of rice stocks.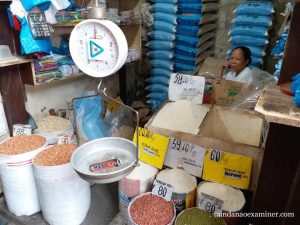 The City Agriculturist Office also started monitoring rice prices in different areas here to ensure traders follow the suggested retail pricing of grains and prevent hoarding.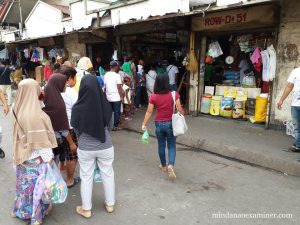 The lack of ample supply of rice was largely blamed by traders to the NFA for failing to deliver cheap rice to the market. Just this week, the NFA said it released 10,000 bags of in Sulu province.
Sulu's rice stocks had been depleted the past weeks after the provincial government purchased over 5,000 bags of rice to feed thousands of people displaced by a huge fire in Jolo town. The same also occurred in the cities of Lamitan and Zamboanga following the burning of many houses that displaced thousands of people who relied heavily on rice donations.
The supply of rice from nearby Malaysia – which helps stabilized the prices of commercial rice in Zamboanga, Tawi-Tawi, Basilan and Sulu – also declined due to a strict government campaign against "traditional" barter trading in the area. A bag of 25-kilo rice from Malaysia only sells as P650 while commercial rice retails as P1,200 a bag of 25 kilos.
Some traders also blamed unscrupulous businessmen they accused of hoarding rice that aggravated the situation which resulted to even more expensive rice prices. "That is happening, but we are only small time traders and the big ones are controlling the prices of commercial rice. They opposed the entry of rice from nearby Malaysia and it resulted in scarcity of Malaysian branded rice such as Triple A and Sunrise. It is all about controlling the business and make huge profits," said one local rice trader at the public market.
Rice stocks from as far as Isabela province in northern Philippines and imported rice from Thailand, India and Vietnam are now available here and prices of rice are slowly stabilizing.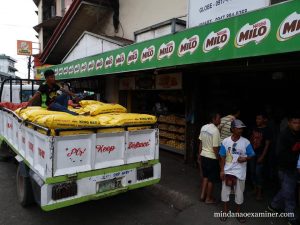 Mayor Maria Isabelle Salazar said NFA has made available 40,000 bags of rice with additional supply coming from Cotabato and Zamboanga Sibugay provinces. "This is a very positive development. We are looking at the normalization of rice supply pending harvest this September," she said, adding, "the NFA and the Department of Agriculture have noticed reduction in rice prices as well as rice availability in the market. Other short term and long term measures are also being explored including the purchase of rice from Cotabato following the declaration of a state of calamity."
Agriculture Secretary Manny Piñol, quoting rice industry stakeholders, said the unusually high prices of rice in the market will taper off and stabilize in the 4th Quarter when farmers start to harvest their last cropping for the year, and rice stocks imported by private sector have been completely brought in by the end of September.
According to Piñol, NFA Administrator Jason Aquino said that the first shipment of 250,000 metric tons of NFA rice has arrived in the country and the next 250,000 metric tons would start arriving soon. Rice from Vietnam, Thailand and Pakistan imported by traders have also arrived. (Mindanao Examiner)
Like Us on Facebook: https://www.facebook.com/mindanaoexaminer
Follow Us on Twitter: https://twitter.com/MindanaoExamine
Read And Share Our News: https://www.mindanaoexaminer.com/
http://mindanaoexaminernewspaper.blogspot.com/
Digital Archives: https://issuu.com/mindanaoexaminernewspaper
See Media Rates: https://mindanaoexaminer.com/ad-rates/
5,112 total views, 1 views today